Buhari's Corruption Fight A Mirage – Ozekhome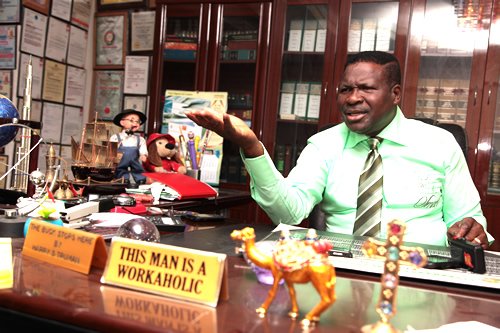 Chief Mike Ozekhome (SAN), Human rights activists/constitutional lawyer, has said that the federal government has failed in it claim to be fighting corruption, stating that the President Muhammadu Buhari led-government is deceiving itself.
Ozekhome added that what the country need urgently is to be restructure because if not restructured the people of the country would continue to surfer.
He made this known while speaking on the topic, 'The Bar, Bench, Investigating Agencies and Anti-Corruption Campaign in Nigeria" on Tuesday at the 2018 Bar Week, currently going on in Uyo, the Akwa Ibom State capital, with 'The Ideology of Restructuring in Nigeria: Legal, Political and Socio-Economic Imperative'. as the theme of the week.
The Senior Lawyer critically examined the fight against corruption as the federal government claims be fighting, while , ascribing the origin of corruption to military incursion into the Nigeria's political space, lamenting that the malaise has become hydra-headed and well entrenched to the extent that successive governments lack the courage to fight to a standstill.
Ozekhome stated that the effort of the federal government to fight corruption head on would continue to be an effort in futility because the same system wallow in corruption and other vices.
According to him, the anti-corruption mantra of the President Buhari-led administration would continue to be called to question because of what he described as fragrant abuse of human rights and frequent disregard to the rule of law, saying that such impunity would run counter to any democratic arrangement.
Ozekhome, who refreshed the memory of those in attendance about the establishment of the Economic and Financial Crimes Commission and ICPC, under President Olusegun Obasanjo, feared that the fight against corrupt by these bodies would continue to be a mirage.
"One thing that gained prominence during these many years of military rule in Nigeria was widespread corruption, assassinations, killings, money laundering and human rights abuses and gross unaccountability and impunity which became a culture well entrenched in Nigeria.
"Wanton corruption is unfolding in different shapes daily, but this has been given a new name in the shape of 'corruption fighting back', a term the government of the day prefer to adopt to explain away the violent disregard to the principle of separation of power and fragrant violations of fundamental human rights and rule of law…", he said.
He noted that the widespread trampling on the rule of law has made nonsense of the anti-corruption war, pointing out that "democracy must float with the rule of law".
He added that the Federal government has continue to hinder judicial process and making the judiciary not to be able to play its role as the hope for justice for everybody, with it continues disobedience of court orders and other impunity against the judiciary.