Ambode Appoints 6 New Permanent Secretaries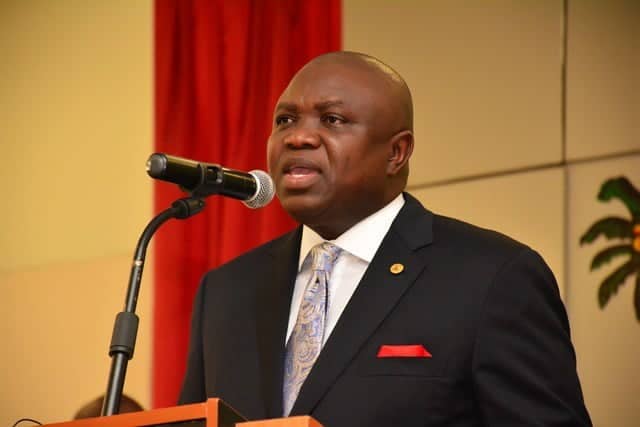 Six new permanent secretaries were today sworn-in by the Lagos State Governor, Akinwunmi Ambode into the State Public Service, as he charged them to join him in building a modern smart-city for the benefits of residents and visitors.
The newly appointed Permanent Secretaries include, Mrs. Samiat Olatokunbo Adeleye (Teaching Service Commission); Mrs. Olufunmilayo Okeowo (Education District IV); Mrs. Tola Akinsanya (Local Government Establishment, Training and Pensions); Mrs. Ganiyat Raji (Wealth Creation); Mr. Bashir Ademuyiwa Braimah (Public Service Office) and Mrs. Bandele Fadipe (Office of Civic Engagement), taking their Oath of Office, presided over by Governor Akinwunmi Ambode, at the Lagos House, Alausa, Ikeja, on Wednesday, July 11, 2018.
While speaking at the swearing-in ceremony, Ambode said to actualize the vision of the state, abilities must be matched with responsibility and that the new appointees must add value to the government and contribute to the state's short, medium and long plans.
"We believe strongly that our State Public Service deserves nothing but the best. Our vision to build a Modern Smart City-State can only be driven and actualized by matching ability with responsibility. This is a key philosophy which has guided all our actions since we assumed office.
"I have no doubt in your capability to add value to governance and contribute to the realization of this administration's short, medium and long term plans," the Governor said.
As Ambode congratulated the appointees, he said the decision to appoint them was not only because of the vacancies created by some Permanent secretary who retired, but stated that they possess qualities which stands them out among others.
The Governor particularly urged the appointees to align their actions with the overall policy objectives of his administration which include selfless service, inclusive governance, fair and just distribution of resources among the people as well as deployment of best global practices in service delivery.
"I look forward to seeing your positive impact in the State Public Service especially in the area of improved efficiency and effectiveness with which government business is handled, keeping in mind that we can only be adjudged to have done the right thing when our people are happy and satisfied," the Governor admonished the appointees.
The new Permanent Secretaries and their portfolios are Mrs Bamidele Fadipe, Office of Civic Engagement; Mr Bashir Braimah, Public Service Office; Mrs Raji Ganiyat, Ministry of Wealth Creation and Employment; Mrs Omotola Akinsanya, Local Government Establishment, Training and Pension; Mrs Olufunmilayo Okeowo, Tutor General/Permanent Secretary Education District Four; and Mrs Adeleye Olatokunbo, Teachers Establishment and Pensions Office.
In his vote of assurance on behalf of the new appointees, Braimah thanked Governor Ambode for finding them worthy to serve the State in the highest capacity in the public service, just as he assured that they would hit the ground running to contribute to the development of the State.
"As your foot soldiers, we have hit the ground running with competence, commitment and concern for a better Lagos. For the confidence reposed in us, we are eternally grateful and we shall add our plough to the various deliverables to which Lagosians are accustomed," Braimah said.