Obasanjo Makes Unusual Appearance in PDP Rally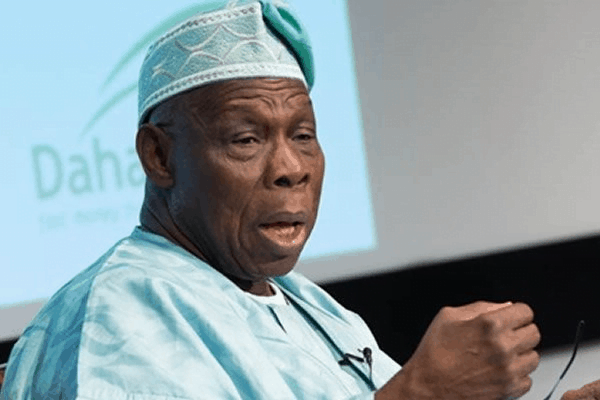 Obasanjo Makes Unusual Appearance in PDP Rally
The sudden and unprecedented visit of Chief Olusegun Obasanjo to the political rally of a governorship aspirant of People Democratic Party in the state, Hon. Oladipupo Adebutu, instigated wild celebration and jubilation among thousands of members and supporters of the Ogun State chapter of the PDP.
Obasanjo, who was dressed in white kaftan, ventured on stage with an unusual energy as he waved heartily to the audience, causing stir and contagious excitements among those in attendance; he wished the party and Oladipupo Adebutu success in his aspiration.
Naija News recalls that during the build-up to the 2015 general election, Obasanjo quit partisan politics officially. He, however, did not speak during the brief moment at the rally that took place at an expanse ground within the Olusegun Obasanjo Presidential Library (OOPL), Abeokuta, the Ogun State capital.
earlier, during the rally, Hon. Oladipupo Adebutu admonished Nigerians, both leaders and followers, to make good governance a priority, as it was the only way to secure their "exalted positions and wealth."
The lawmaker representing Remo Federal Constituency in Ogun State gave the advice at the Ake Palace, Abeokuta, when he met with the Alake of Egbaland, Oba Adedotun Gbadebo, and his chiefs prior to the rally at OOPL.
The Lawmaker, who came to request for prayers from the Paramount Ruler ahead of his 2019 governorship ambition in the state, thanked the royal father for his prayers,  when he was vying for the seat he is currently occupying at the lower chamber of the National Assembly.
He asserted that corruption can be curbed and sustainable development can be guaranteed if good governance is made available to the people.
According to him, if one has the compassion for others at heart, it would be difficult for one to appropriate collective wealth for persona benefits.
He added that corruption can only be dealt with and shunned if leaders have the fear of God and passion for the people in them.