Six Boys Rescued From Flooded Thai Cave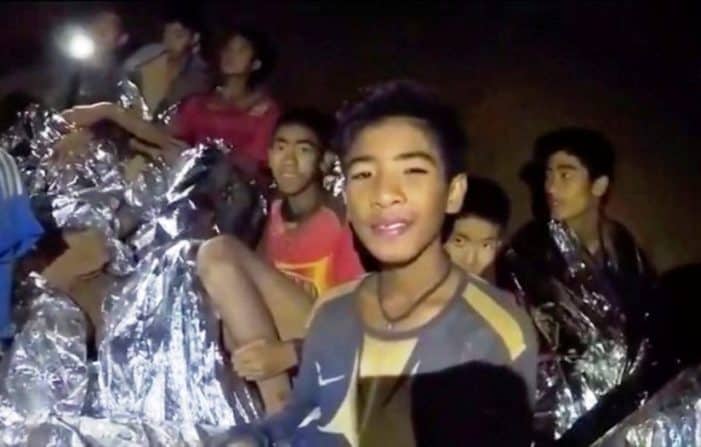 According to Thailand Authorities, six boys out of 13 trapped in a flooded Thai cave for more than a two weeks were rescued on Sunday, raising the optimism that elite divers would be able to hastily save the lives of the rest.
Reports has it that after navigating a dangerous  escape route of more than four kilometres (2.5 miles) through twisting, narrow and jagged passageways, two boys were rescued from the flooded Tham Luang cave before nightfall.
Social Media exploded in jubilation in Thailand and around the world as four other boys were rescued safely shortly after the first two boys were brought out safely.
According to Nigeria News, a Defence Official who asked not to be named affirmed that six boys have been rescued alive.
Foreign elite divers and Thai Navy SEALS on Sunday morning began the complex operation to extract the 12 boys and their football coach as they raced against time, with imminent monsoon rains threatening more flooding that would doom the mission.
"Today is the D-day. The boys are ready to face any challenges," rescue chief Narongsak Osottanakorn told reporters near the cave site on Sunday morning.
The Boys and their football coach became trapped in Tham Luang in a mountainous area of northern Thailand on the 23rd of June, after football practice when they sought shade from the rain in a cave but were trapped by the flood,
The rescue of the first six was a stunning victory in an operation Narongsak had earlier dubbed "Mission Impossible", and led to cautious optimism that the others would also be saved.
Another official involved in the rescue operation said the initial six who had been saved formed a first group.
A second group made up of the others had also begun the journey from the chamber where they had been trapped, a rescue worker told Nigeria News.
The death of a former Thai Navy SEAL diver who ran out of oxygen in the cave on Friday underscored the danger of the journey even for professionals.
"There is no other day that we are more ready than today, Otherwise we will lose the opportunity." he said.