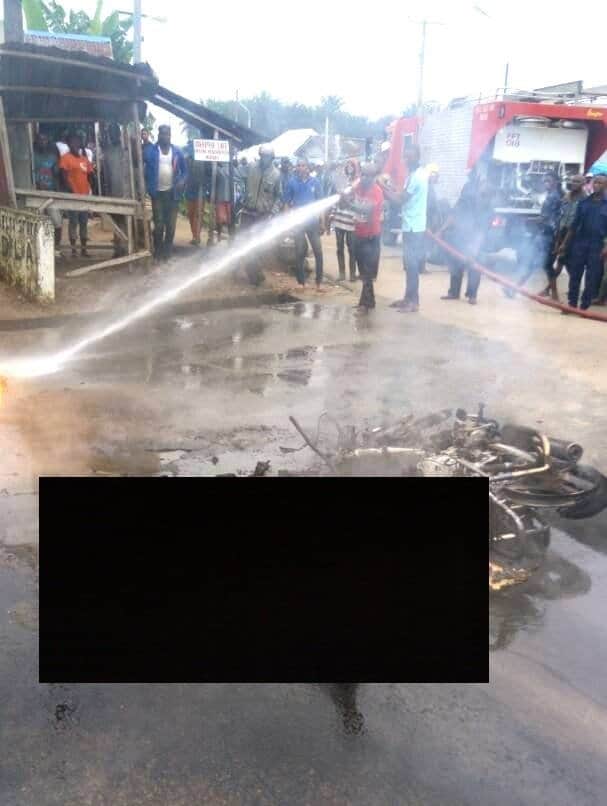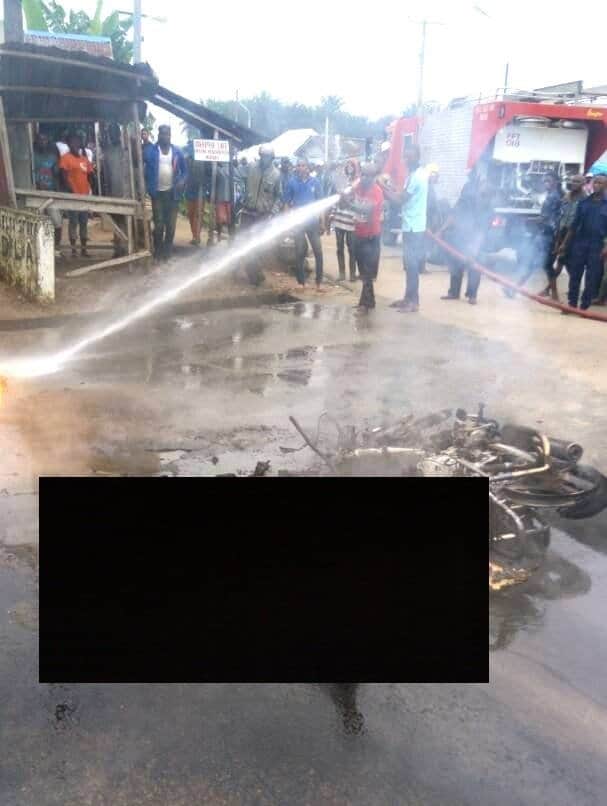 Pregnant woman burnt beyond recognition in Delta state. The woman's lifeless burnt body is censored as fire fighters try to put out the flames while bystanders wail (Photo Credit: NAN)A Pregnant petrol black marketer was burnt beyond recognition on Tuesday morning after a motorcycle accident in Oghara Town, headquarters of Ethiope West Local Government Area of Delta State.
The victim Madam Gbogbo, as she is popularly known is said to be dealing in second-hand clothes.
Witnesses told a NAN correspondent in Abuja that the accident also involved a jeep, at Navy Junction on Ibori Road, where former Governor James Ibori's residence is located.
"The woman was returning from a petrol depot with a jerry can of fuel she bought when the jeep knocked down her motorcycle.
"She was personally riding the motorcycle with the jerry can placed on the tank in front of her.
"The fuel exploded in the process, and there was nothing anyone could do to save her.
"Since tank farm started in Oghara, every woman has become a petrol black marketer.
"They sell fuel along the road, and the deceased is one of the numerous women engaged in this business," one of them said.
The Public Relations Officer, Mr. Andrew Aniamaka, while confirming the report said the driver of the vehicle had been taken into custody, while investigation was ongoing into the circumstances surrounding the incident.
In May, a 35-year-old female petrol black marketer suffered a similar fate in the town after the product she reportedly stored in her house caught fire that razed down the entire residential building.
Follow @naijanews