Four Die While Driving In Flood At Onitsha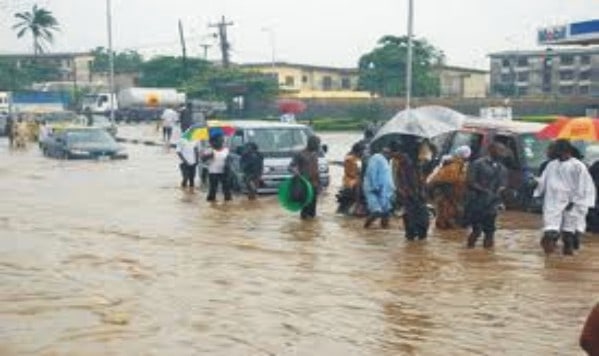 Ravaging Flood In Onitsha, Anambra State, Drowns Four Bankers
Ravaging flood that occurred in Onitsha, Anambra State during the last weekend has claimed the lives of four bankers who were driving home from work.
The Sun reports that the four bankers were drowned by flood on Obodoukwu Road, off Onitsha-Owerri Expressway in Ogbaru Local Government Area of the State.
The victims, who are members of staff of a commercial bank, had on the fateful day, after the close of work, resolved to defy the rain as it was getting late and entered one of their official vehicles being driven by the bank's accountant, (names withheld) when the incident happened.
Source said as the vehicle was struggling to beat the flood that had covered the entire road, it plunged into the Sakamori (drainage) that is channelled to the River Niger and all its occupants got drowned.
Sakamori, which is about 15 feet depth and full to capacity, was said to have swallowed the vehicle immediately.
The source said at Obo- doukwu Road, "it was the flood that carried the vehicle to the Sakomori because it is a small vehicle. The driver tried to resist the force of the flood but the vehicle has no
weight before it drowned.
"They were about four, I think with one little girl I saw as they were panicking inside the vehicle and after the rain.
"The vehicle was recovered with three out of the four of them excluding the baby girl.
"The next day, the corpse of the accountant who drove the vehicle was picked but the little girl nobody knows if she has been washed into the River Niger.
"This Sakomori was built to control flood that wrecks havoc whenever it rains in Onitsha and its environs.
"You can see that it is so deep that when the banker's vehicle plunged into it, no- body was ready to come to the rescue of the occupants. "We were watching them drowned, what can we do, the flood on the road was up to two feet height and the Sakamori had over flown its bank and that was why the flood was much on the road," he  added.
A senior police officer at Okpoko Police Station, who spoke on the condition of anonymity confirmed the incident, saying: "We are aware of the incident and their corpses have been deposited in the morgue.