Nyame's Appeal For Bail For Health Reasons Denied; See Why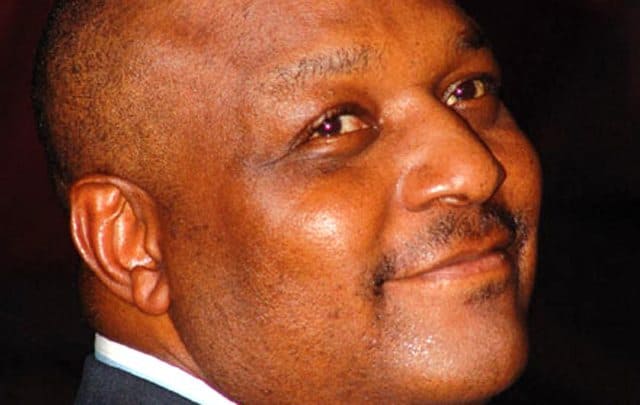 Jolly Nyame's Appeal For Bail To Seek Traditional Health Care Dismissed
Justice Adebukola Banjoko of an Abuja High Court has dismissed an application for bail, filed by a former governor of Taraba, Jolly Nyame, who was given a 14 year jail term for offences bordering on misappropriation of funds.
Mr Nyame's counsel, Olalekan Ojo, yesterday, approached the Court with the application for bail, saying that his client was hypertensive and diabetic, and pending the determination of the appeal against his conviction, needed to have access to his "traditional herbal medicine".
"My client has been living with these conditions for about 10 years now, and he had sought permission from the prison authorities in Kuje, Abuja, to be allowed to be given herbal medicine, but his request was rebuffed," he said.
He also told the court that a June 19, 2018 medical report issued by the Taraba State Hospital indicated that Mr Nyame could lose his life if he was not released from prison.
In support of the application, he presented medical reports to the Court, and the request letter to the prison officials.
"These exhibits are medical reports attached to the affidavit in support of the application," he said, notifying the Court that the prison authorities disallowed him access to those who wanted to give him the herbal medicine.
"Whatever must have been responsible for their decision whether right or wrong, the point is that he was not allowed access to them," he added, stressing that ill-health constituted "special and exceptional circumstances" to enable his client be granted bail after the conviction.
Opposing Nyame's counsel, the prosecuting counsel, Rotimi Jacobs argued that Mr Ojo failed to support his request with necessary materials.
"Mere medical reasons will not suffice to be granted bail after conviction, because Nyame as a convict has lost the right to medical facility of his choice, but the one that is provided by the prison authorities," he said.
He further argued that the issue of health could only come into account as an exceptional circumstance, "if the prison authorities say they are unable to provide the medical need of the convict".
He added that the application lacked "a medical report by a medical practitioner who specialises in the area of medicine that concerns the ailment of the convict".
Justice Banjoko after standing down proceedings for a few minutes thereafter, refused the application, noting that "the medical reports presented to the court were conflicting and the dates on them are not corresponding with each other".
"If indeed, he needs any medical attention he should apply to the Ministry of Interior, because the Prison authorities are under the ministry," the judge held.
Naija News recalls that Justice Banjoko had on May 30 sentenced Mr Nyame to 14 years for criminal breach of trust, two years for criminal misappropriation, seven years for gratification and five years for obtaining by dishonesty, with the sentences to run concurrently.