We Get N500 Daily For Sleeping With 15 Men – Raped Teenagers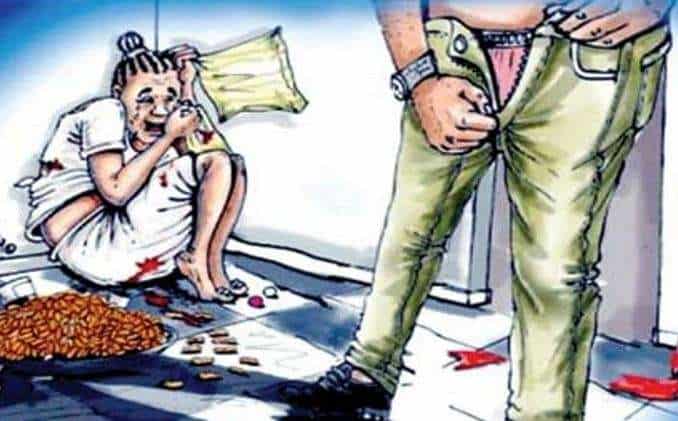 Missing And Raped Teenage Girls In Ondo State Return Home
Two missing teenage girls from Ondo town, Ondo State, who were alleged to have gone through torture and rape in the hands of some men, have returned home.
Report had it that the girls went missing after a video of their nakedness and torture was uploaded on social media platforms by five men who had been remanded in custody for the rape.
The accused who are Bode Akinsiku, Olabanji Femi, Abiodun Ayodele, Fadairo Wahab, and Adedayo Adebayo were alleged to have lured the two teenagers to the house of one of them on Kogbona Street in the town, where the victims were allegedly raped and tortured.
The two raped girls and one other teenager while speaking on Tuesday, alleged that they were abducted shortly after the rape trial started.
They also claimed that the wife of one of the suspects, Toyin Akinsiku, and one Imole, masterminded their abduction.
The teenagers said Akinsiku took them to an unidentified woman in Lagos State, who used them for prostitution and menial jobs.
One of them said, "We were going back home in company with one of our friends, Posi, on the day when the two women forced us to climb an okada and took us towards the Awoyaya area along Ondo-Ore Road in Ondo town, where we later boarded a bus to Lagos.
"Our abductors handed us over to a woman who specialised in hotel business and forced us to become prostitutes in the hotel. We take more than 15 men on a daily basis and the woman gave us N500 every day.
"At times, we were made to hawk sachet water. But when it was weekend, we were inside the hotel for business. We later ran away from the hotel."
Mr Femi Joseph, the state Police Public Relations Officer, who confirmed the return of the girls, said Toyin had been arrested and would be charged to court for kidnapping.
He said, "The girls were abducted in Ondo and taken to Lagos State for prostitution by the wife of one of the suspects (Toyin), but the girls managed to escape.
"We have arrested Mrs Akinsiku, while the other woman ran away. We will soon charge her to court for kidnapping."
Source: Naija News