Bayelsa Govt Denies Sacking 28,000 Workers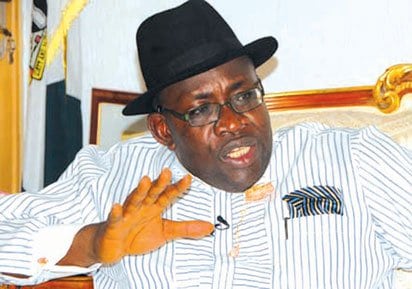 Bayelsa State government has denied sacking any  worker has been  in the civil service, contrary to what is being peddled in some section o the media.He spoke to journalists at a news conference in Yenagoa.
Naija News Understands that the Bayelsa State government held Town Hall Meetings in the Local Government Areas today to shed more light on its Public Service Reforms.
The Government refutes statements credited to the All Progressives Congress that it has laid off twenty eight thousand workers in the Civil Service.
The committee said the Public Service Reforms is purging the workforce of age cheats, ghost workers. staff with forged certificates and false grade levels, but also keeping the window open for genuine complaints.
He stressed that the blackmail from the APC was an indication of corruption fighting the reforms designed to free Bayelsa from the greed of payroll vultures.
He added that any politician attempting to attack the reforms and the removal of fictitious names from the payroll was an enemy of Bayelsa and her people.
He  also challenged the APC chairman to provide one qualified Bayelsa civil servant who was sacked as a result of the ongoing reforms to back his spurious claim.
He restated the position of the governor that the reforms were not meant to sack people and foist hardship on the citizens.
He said: "It is clear that the APC faction in the state is worried by the wide acceptance of the reforms by Bayelsans. To them, everything must be seem from their primitive prism of injurious politics.
"When you are out against ingrained corruption, what do you expect? Corruption will fight back. This is a classical case of corruption drawing the daggers against the reforms in the name of APC in Bayelsa.
"Anybody faulting the holistic implementation of the reforms hates Bayelsa; Anybody attempting to politicize the removal of fictitious names from the over bloated payroll is an enemy of the unemployed Bayelsa youth.
"What this government has done is what other administrations failed to do because they considered political considerations above the interest and survival of our dear state.
"Who are the 27,000 workers that have been sacked? Where were they sacked from? If the APC is on the ground in Bayelsa, they should have been in a position to parade some of the supposedly sacked workers from the public service.
"The fact is that a party build on a mound of lies can't stand. This lie should be discountenanced. Bayelsa is not a ghost society. You don't sack ghost because there is no provision for them in the society of humans. Are they alleging sacking of 27,00 ghosts?"
He insisted that no amount of blackmail from the APC or elsewhere would stop the government from implementing the reforms.
He said that the APC in the state could not claim ignorance of the removal of 55,000 ghost names from the payroll by the Federal Government.
Iworiso-Markson added that if Jothan had been reading the papers, he would also have realized that similar implementation of Reforms and indeed outright sacking of workers have taken place in many APC states
Source: Naija News