Top Lawyer, Nwobike Stripped Of SAN Title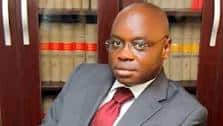 LPPC Withdraws SAN Title From Nwobike
The Senior Advocate of Nigeria (SAN) rank has been withdrawn from Dr. Joseph Nwobike by the Legal Practitioners' Privileges Committee.
Naija News recalls Nwobike, was convicted in April by Justice Raliat Adebiyi of the Lagos State High Court in Ikeja and sentenced to 30 days' imprisonment.
Nwobike was convicted of making several attempts to pervert the course of justice and attempting to influence the assignment of his cases to some preferred judges.
He was found guilty of 12 out of the 18 count charges pressed against him by the Economic and Financial Crimes Commission, (EFCC).
The decision of the LPPC was communicated to newsmen in a press release signed by the LPPC Secretary and the Chief Registrar of the Supreme Court, Hadizatu Mustapha.
It reads: "This is to notify the general public that the Legal Practitioners' Privileges Committee, at its 132nd session which was held today, the 21st of June, 2018, has suspended Joseph Nwobike Esq. from the use of the rank of Senior Advocate of Nigeria (and all other privileges attached to the rank) in accordance with the provisions of Paragraph 25 (2) of the Legal Practitioners' Privileges Committee's Guidelines."
Source: Naija News