PDP Attacks Buhari On Implementation Of 2018 Budget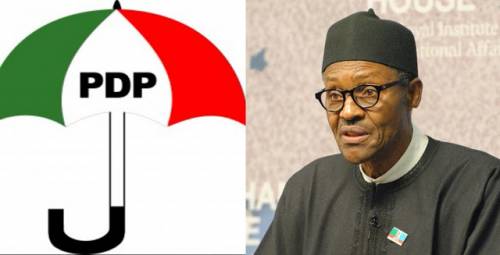 Buhari Lacks The Capacity To Implement The Budget – PDP
President Muhammadu Buhari yesterday signed the 2018 budget into law and the Peoples Democratic Party has come for the President stating that he lacks the capacity to implement and run a development-oriented economy as desired by Nigerians.
Recall that Naija News had yesterday reported that President Muhammadu Buhari signed the 2018 budget.
The party, which released a statement signed by Mr. Kola Ologbondiyan, National Publicity Secretary, in Abuja on Wednesday said the President's action was an indication that "the economy is in very bad hands."
He said, "President Buhari, in picking holes on items that would directly impact on economic productivity, infrastructural advancement, rural development as well as those that would provide urgent palliatives to the plight of Nigerians, shows his aversion to developmental economy as well as insensitivity to the welfare of our citizens.
"In fact, President Buhari, in his comments on the budget has further de-marketed our economy before international investors, thereby worsening our woes as a nation.
"How on earth can a President, if indeed he loves the people, quarrel over budgetary items seeking to cushion the biting effect of the economic recession, particularly for the poor, who are the direct victims of the harsh policies of his incompetent administration?
"Furthermore, President Buhari's resort to blaming the National Assembly for his inability to exert himself as a leader and ensure smooth implementation of the budget, further shows that he cares little about the actual needs of the people, having holed himself up in the comfort, security and pleasures of the Presidential Villa."
Ologbodiyan urged the National Assembly to ensure strict implementation of the 2018 budget.
President Buhari had on Wednesday lamented that the 2018 Appropriation Bill which he signed into law would be difficult, if not impossible, to implement because of the alterations members of the National Assembly effected on the document he submitted to them on November 7, 2017.
Download NAIJA NEWS app: