2018 Budget: Nigerians Voice Opinion Over Budget Anomalies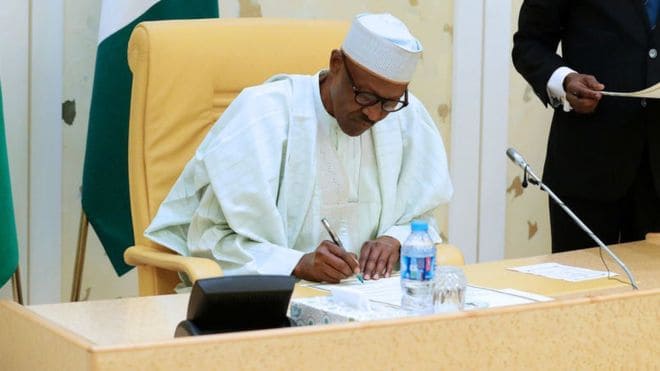 Reactions Trail Details Of The Freshly Signed 2018 Budget
In as much as Nigerians are happy that President Muhammadu Buhari signed the long awaited 2018 Budget yesterday, reactions have continued to pour in over the details.
On receiving news of lawmakers padding the budget, some have taken to twitter to tell the president that he signed the budget without properly looking through it.
On the other hand some have identified with the senate saying that the national assembly members are Nigerians with intents and purposes.
Still others have continued to lament at the level of corruption in the country, saying the budget took too long before its signing.
See some tweets:
Bipartisan National Assembly of Greed. pic.twitter.com/uMPcJfQizI

— Daddy D.O?? (@DOlusegun) June 20, 2018
The best thing to do is to go straight to the National Assembly and Panelbeat these rogues Wallahi. They are enemies of progress

— Abbas Dangi (@DangiAbbas) June 20, 2018
To say the National Assembly is "padding the budget or inserting items into it" is therefore extremely naive because even when it does so, it is merely and only DOING EXACTLY WHAT IT IS SET UP TO DO.

We've gone over this so many times but ignorance is an APC tool of governance.

— Demola Olarewaju (@DemolaRewaju) June 21, 2018
The Nigerian budget before it goes to the National Assembly and after they finally release it. pic.twitter.com/ZgsfvPSQf9

— Abu Bilal (@El_Azool) June 21, 2018
What Mr. President seems to not yet grasp is that, the NASS (Senate & House of Representatives) are not merely "members of the National Assembly". Those "Members of the National Assembly" are for all intents & purposes, representatives of Nigerians. They are "Nigerians in govt"

— SApenja (@solomonapenja) June 20, 2018
It is easy to pick scape goats, e.g. pounce on the National Assembly but they are only a subset of an entire process riddled by corruption, inefficiency and opaqueness. It is a house built on a bad foundation, changing the roof won't save it!

— JJ. Omojuwa (@Omojuwa) June 21, 2018
Naija News gathered that despite the various reactions, many Nigerians are more keen on the speedy implementation of the budget.
Download Naija News App. Advertise with us. Send us enquiries and press releases.