World Cup: Idowu Believes Super Eagles Can Defeat Iceland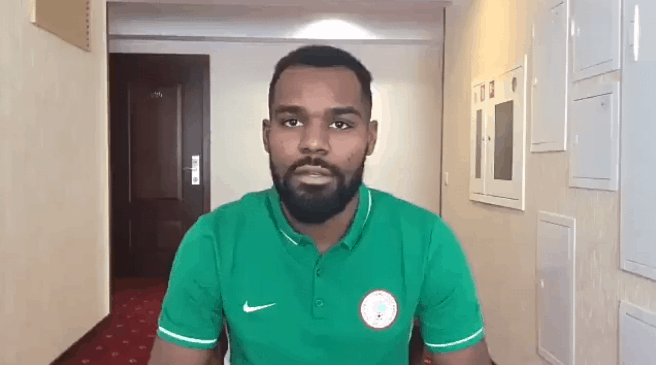 Super Eagles Will Not Make The Same Mistake Against Iceland – Idowu
The Nigeria National team side that lost to Croatia in their World Cup opening match has been advised by Brian Idowu to guard against repeating the same mistake in their second Group D match against the Iceland side, which is described as fearless, physical and combative.
The Super Eagles of Nigeria need a victory in their Friday match to keep the hope of the making it out of the group stage alive.
Iceland team has been given much attention since their match against powerhouse Argentina side and their denial of Lionel Messi's penalty in their 1-1 draw match
Iceland manager Heimir Hallgrimsson abandoned his traditional 4-4-2 formation, opting for a negative approach, which enabled his players, average 1.90m in height, to frustrate an Argentina side who lacked ideas.
And Russian-born Idowu, who expressed his disappointment over Nigeria's loss to Croatia via set-pieces, warned the Eagles against taking their foot off the throttle at the Volgograd Arena where they come up against Iceland make-or-break clash on Friday.
"It's going to be a very difficult match (against Iceland)," the versatile 26-year-old defender, who plays for Russian Premier League outfit Amkar Perm, said.
"It's going to be a very difficult match because Iceland are a team of fighters. It's a game that could decide the fate of either team in this group. It's a difficult group. Both teams want to get something big from the match, but it will be decided on the pitch. I believe it's going to be our game."
Idowu, who made his international debut in the 4-2 defeat of Argentina in a friendly affair in Krasnodar in November, lamented the Eagles conceded from set-pieces. He promised that they would not repeat same mistakes in Volgograd.
"It was unfortunate that we conceded two goals through set-pieces (against Croatia)," he said.
He insisted that his colleagues did their best to come out of Kaliningrad with a good result by regretted that they left the beautiful city a bruised and battered team.
Idowu said, "I did my best, everybody did their best, but our best was not enough to win the match."
He added, "We are going to work on our weakness before our game against Iceland. I believe we will qualify for the second round of the tournament because we have a good team."