UK Reacts As US Pulls Out From UN Human Rights Council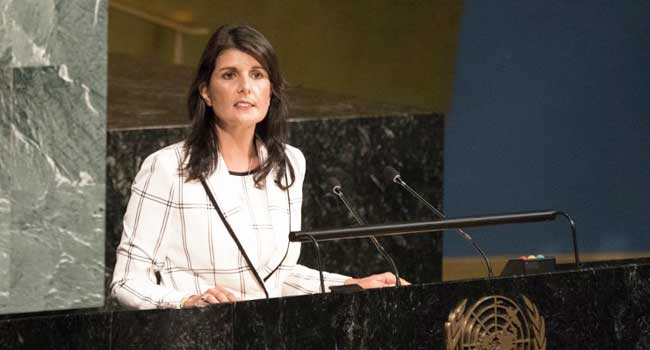 United States Withdraws Membership Of UN Rights Council
The United States has pulled out his membership from the UN Human Rights Council, US ambassador Nikki Haley said this today at the State Department in Washington., branding the global body a "cesspool of political bias."
.@USUN Ambassador Nikki Haley announces the U.S. withdrawal from the @UN #HumanRightsCouncil. pic.twitter.com/G1Zk7ZZhGT

— Department of State (@StateDept) June 19, 2018
Naija News understands that she said the decision was an affirmation of U.S. respect for human rights, a commitment that does not allow us to remain a part of a hypocritical and self-serving organization that makes a mockery of human rights. "
"For too long, the Human Rights Council has been a protector of human rights abusers, and a cesspool of political bias," "We took this step because our commitment does not allow us to remain a part of a hypocritical and self-serving organization that makes a mockery of human rights," she said.
Secretary of State Mike Pompeo, U.S. Ambassador to the UN Nikki Haley deliver statement on whether U.S. will pull out of UN Human Rights Council. https://t.co/FlIhdz0Ts8 pic.twitter.com/U6U4Dp8XoI

— CBS News (@CBSNews) June 19, 2018
The 47-member council, created in 2006 and based in Geneva, began its latest session on Monday with a broadside against President Donald Trump's immigration policy by the UN's high commissioner for human rights. He called the policy of separating children from parents crossing the southern border illegally "unconscionable."
While that timing was jarring, the U.S. withdrawal had been in the works for some time. National Security Adviser, John Bolton had also opposed the body's creation when he was U.S. ambassador to the UN in 2006.
Current Ambassador, Haley warned a year ago that the U.S. would pull out if the council didn't address what she saw as its bias toward Israel and the fact that many of its current members — they include China, Saudi Arabia and Egypt — have poor human rights records themselves.
Condemning the planned withdrawal from the UN group, Senator Chris Coons, a Democrat who serves on the Foreign Relations Committee, said the decision "sends a clear message that the Trump administration does not intend to lead the world when it comes to human rights."
The council also has been a forum for criticism of Trump's economic policies. In a report on the U.S. due to be submitted to the Human Rights Council this week, Philip Alston, the UN's rapporteur on poverty, said the president's tax overhaul "overwhelmingly benefited the wealthy and worsened inequality."
The United Kingdom has also expressed regret over the decision of the U.S. to withdraw from the UN Human Rights Council.
UK Foreign Secretary, Boris Johnson, in a statement by the United Kingdom Mission to the UN, said Britain wants to see a reformed council but would work for it from within.
"The United States' decision to withdraw from the Human Rights Council is regrettable.
"We've made no secret of the fact that the UK wants to see reform of the Human Rights Council, but we are committed to working to strengthen the Council from within,'' Johnson said.