LASEMA, Police In Search Of Woman Who Allegedly Jumped Into Lagoon (Photos)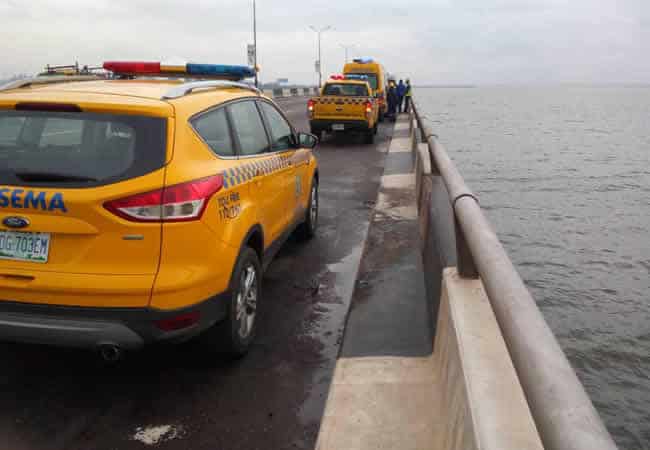 Police Yet To Get The Truth In The Incident – Chike
The Lagos State Emergency Management Agency and Marine Police, in respect to a woman alleged to have jumped into the Lagoon on Sunday, has lunched out a search team.
SP Chike Oti, the Police spokesperson, said the command is yet to get the authenticity of the incident, adding that it was not leaving anything to chances.
Mr. Adeshina Tiamiyu, the General Manager of LASEMA, said rescue operatives had been searching for the alleged victim since 5pm on Sunday when the incident allegedly happened.
He described it as a "developing story", saying the agency was still trying to get its facts right.
The Lagos State Police Command on Monday said it had commenced investigation into the report that an unidentified lady allegedly parked her car on the Third Mainland Bridge and jumped into the Lagoon.
SP Chike Oti, the Command's Spokesman, told the News Agency of Nigeria that though the Police had not received any official report, they were already making efforts to find out the true story.
He said that the report of their investigation would be made public as soon as the Police find anything.
"There is no official report yet. It is the news making the rounds. However, our rescue team is searching, divers and Marine policemen are working.
"Investigation is ongoing, findings will be made public, please," he said.
See photos below: