OBJ Afraid Of His Shadow, Nemesis – Tsav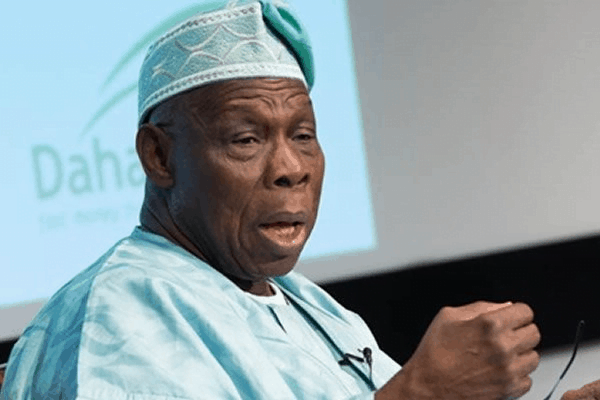 Alhaji Abubakar Tsav, Popular former Lagos Commissioner of Police, has hit at ex-President Olusegun Obasanjo, whom he said was"simply afraid of his shadow''.
He said that Obasanjo was afraid of nemesis, adding that Obasanjo's eight years presidency was full of a lot of atrocities, some of which bordered on criminality.
Naija News recalls that Obasanjo on the 8th of June cried out on the alleged plot by President Muhammadu Buhari Government to arrest him over trumped up charges.
Former President Goodluck Jonathan was accused but Obasanjo that he was recruiting snipers to haunt down political adversaries.
Tsav stated that the former President Obasanjo "is simply afraid of his shadow''.
He added that his administration is smeared atrocities and criminality.
"For instance many high profile murder of notable politicians occurred during his tenure and nothing was done to unravel such cases. For example the Bola Ige murder case.
NAN news Confirmed that Ige was Obasanjo's minister of justice and attorney general who was assassinated in his home.
"There was also high profile corruption cases like the $16 billion power contracts and Halliburton bribe scandal
"OBJ is afraid that he might be required to explain his role in any of these. He is just pre-empting President Mohammadu Buhari here.
"If he believes that he is innocent, why is he crying out? He has stained his fingers and should subject himself for Police interrogation." he said.
Tsav also applauded President Buhari for directing the IGP to re-open the investigation of the late Minister of Justice Mr Bola Ige in 2016 adding that it was a right step in the right direction.
The former Police Commissioner further disclosed that throughout his 30 years in the criminal investigation department of the Police Force he discovered that all criminal cases that government were interested in the culprits were never arrested non justice served.
"I have served the nation in the Nigeria Police Force for 35years, three quarters of which was in Criminal Investigation Department in all levels of the Force.
"I do know as a matter of fact that, any major crime in which the government is interested, the perpetrators will never be found or arrested neither will they be brought to justice.
"The murder of Chief Bola Ige, the Nation's Attorney General and Minister of Justice is one of such cases. Or how else can one explain the clinical and gruesome murder of a whole Minister of Justice of the Federation and yet no one will be arrested and brought to justice? This is too glaring." he said.
He further warned governors and other leaders across the country who are using their present positions to commit all manner of atrocities and covering same using their positions to thinks twice as they will never escape God's justice.
"Those leaders at all levels of Government who believe that they can use their positions and power to commit heinous crimes and use the same positions to evade justice, must realise that they may escape man's justice but they shall never escape God's justice." he said
Source: Naija News