Falz Replies MURIC Says Threat To Sue Him Is Absurd &Baseless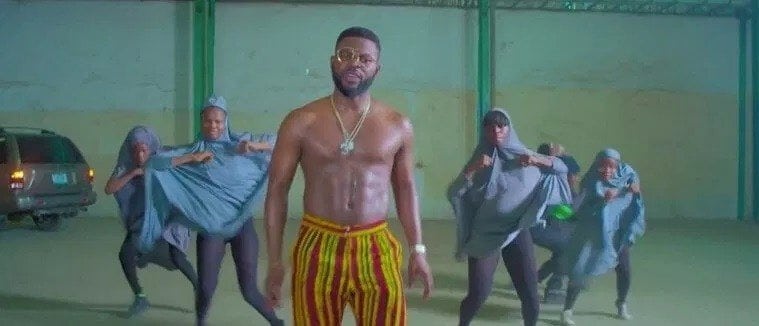 My Father Was Happy When This is Nigeria Came Out  –Falz
Folarin Falana aka Falz the bad guy who has been criticized and threatened by The Muslim Rights Concern with legal action for disrespecting Islam has refuted thier claims by saying that their threat as absurd, baseless
Falz who is also barrister responded to MURIC's Threat In an exclusive chat with Punch Corespondent Ademola Olonilua, when he was questioned on the issue.
An Islamic group, The Muslim Rights Concern, claims that you disrespected Islam by featuring girls in hijab dancing Shaku Shaku in the video. Why was that scene in your video?
I think it is very clear what that scene represented in the video. The message is very clear because the girls there symbolise the constant issues and troubles that face the innocent girl child in Nigeria, especially in the northern part of Nigeria. They have been victims of kidnappings and we have the case of the Chibok girls and recently the Dapchi girls. Till date, most of the Chibok girls have not been found while a Dapchi girl is still held captive. That is what those girls symbolise. I feel everyone got the message and it is absurd that a group of people like MURIC alleged that it is a hate video. I do not think that makes sense in any way because in the same video, I spoke about other issues like insecurity, corruption, and I even talked about pastors. No Christian has come out to say that it is a hate video; so what is MURIC talking about? I do not really understand them.
But why did the girls in hijab have to dance Shaku Shaku which is a secular dance step?
If you noticed, I was dancing as well and the dance was symbolic. The dance was symbolic of entertainment being a distraction from everything that is happening in our society. Shaku Shaku is the most popular dance step in Nigeria and it is currently in vogue; it is pretty clear that with all that is happening, everyone is embedded and carried away with the dance culture. I was just trying to say that everyone is too carried away with entertainment that they seem to forget all the things that are happening right in front of our faces.
Did you expect this kind of backlash from anyone especially the Muslim society?
I expected reactions, conversations, controversies but I did not expect that anyone would allege that it is a hate video or that the video would incite violence. There is no way that a video like that would incite violence.
We learnt MURIC wants to drag you to court. Is that true?
Yes. I feel it is very funny because there is no cause of action, to be honest. There is no law that is against young ladies dancing in hijab. There is absolutely no basis for a legal action, I mean, people dance in hijabs all the time in movies and parties. In fact, designers have made sportswear that have hijabs, so why are they not saying that is a disrespect to the religion? I think it is a baseless allegation.
So you are convinced that you did not insult the Islamic religion with the music video?
I have the utmost respect for Islam as well as every other religion but what I think our people need to focus more on is how to get away from being religious fanatics. It is one of our biggest problems and it was an issue I addressed in the same song and visual.
There are reports online that you said you are prepared to meet MURIC in court. Is that true?
If there is really going to be a court case, of course, I am prepared but there is none; there is no case here and I do not think it is anything that would hold water in any court. If they were to institute proceedings, I do not think it is something that would see the light of the day because there is no cause of action.
You once said that you want to be an activist through your music. With the heat this song has brought to your doorstep, do you think you are prepared to travel that path?
I am very prepared and I know that social conscious songs like this do not come without repercussions and reactions. They do not come without backlash. It is something I have thought about and it would definitely come my way but if you are going to speak the truth, then you have to stand for what is right. This is something I am going to continue to do and I would always stand for what is right.
How has your father reacted to the video and the controversy trailing it?
Political commentary and socially conscious music is something my father has always encouraged me to do; so he was happy when this came out.
Already there are memes on the internet about Falz vs MURIC. Are you aware?
Yes, I have seen some of them. All those memes make me laugh and they are quite funny. It is interesting to see them. Another interesting thing is that virtually everyone can see that MURIC does not have a case or meaningful allegation. With the memes and tweets I have been seeing, some people are even saying that if I take down the video, they would sue me. Some are saying that if I take down the video, they would upload it again so that MURIC should come and sue them. I read a lot of interesting tweets during the week. It is good to see that people are actually speaking out against these guys.
Are you not afraid for your life?
I am not afraid, I am protected by God. If I am speaking the truth which is the right thing to do; I don't think anybody can harm me.
Copyright Naija News 2019.
 Send all news and press releases to 
newsroom@naijanews.com
.
Advertise with us.   Send us enquiries, press releases.