Four killed, Scores Injured As Herdsmen Attack Farmers In Taraba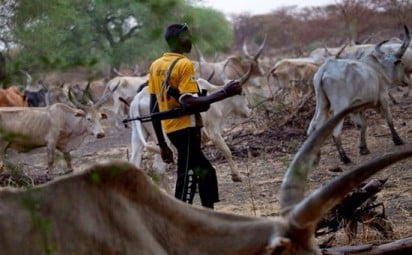 Armed herdsmen who attack Tiv farmers in Gassol Local Government Area of Taraba State on Monday afternoon have left no fewer than four people dead.
while speaking to Punch, Mr. Terkimbi Tahav, an eye witness who escape the attack of the invaders by providence, said they were in the farm at Dinya village in Gassol Local Government Area when nine armed herdsmen on three motorcycles came and forced them out of the farm.
"One of them told us that the land we were farming on was sold to them by the Village Head of Kwararafa (Dekechin Kwararafa), Alh. Ibrahim Isah.
"We were shocked and tried to resist their attempt to chase us out of our farm, but they started attacking us with cutlasses and we ran for our dear lives.
"It was when we were running to safety that we discovered that four of our relations were already dead. They had killed them earlier before proceeding to attack us.
"It's only because of God that some of us are alive to tell our story," he narrated.
Mr. Titus Gowon, the leader of the youth in the community disclosed that the herdsmen who accosted their victim left some dead and others escaped with bullet wounds.
"The Divisional Police Officer in charge of Gassol has come around, but he refused to go to the scene of the attack on the account that there was no fuel in their vehicles," he said.
Alh. Ibrahim Isah, the village head of Kwararafa, refuted the allegations that he had sold out the land belonging to Tiv people in the area to herdsmen.
He, however, acknowledged the misunderstanding between Fulani and some Tiv farmers in the area.
"I am not sure of the casualty figures because I am not around as we speak," he said.
Chairman of Gassol Local Government Area, Hon. Yahuza Yaya'u, confirmed the deployment to our correspondent in a telephone interview.
"Nine people mostly women were badly injured and we are making efforts to take them to the hospital.
"The problem started in Dongon Ruwa and six women and three men were badly cut at the point of death, but no life was lost.
"Those Parading the rumor that four people were killed are those trying to ensure the escalation of the crisis," he said.