British Government To Unveil New Counter-Terrorism Strategy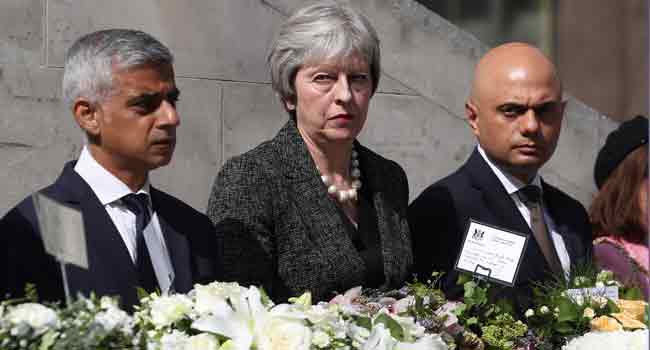 British government today has promised to unveil a new counter-terrorism strategy under which it will boost intelligence cooperation between the domestic MI5 service and police as well as the private sector, Naija News understands.
The plan, to be dubbed Contest, will seek to ensure "that there are no safe spaces for terrorists, no safe spaces internationally, in the UK or online," Home Secretary Sajid Javid says"The threats are evolving. We must evolve too," he will say to an audience of counter-terrorism experts, according to excerpts released by the Home Office.
The new strategy "incorporates the lessons learnt from the attacks in 2017 and our responses to them". Under the new blueprint, the security services will be alerted to suspicious purchases more swiftly.
The government want firms to raise the alarm as quickly as possible if they have evidence of unusual transactions — such as someone stockpiling large amounts of chemicals or acting suspiciously when hiring a vehicle.
Javid will also identify "extreme right-wing terrorism" as an increasing threat and note similarities to the Islamic State group. It will be his first major speech on security since becoming home secretary in April following the resignation of Amber Rudd over the Windrush immigration scandal.
The son of Pakistani parents who emigrated to Britain in the 1960s, he will touch on his own background to address the issue. "There's one other thing that Islamists and the far right have in common," he will say. "As a Home Secretary with a name like Sajid Javid — I'm everything they despise.
Remembering London Bridge & Borough Market attack, one year ago #LondonUnited pic.twitter.com/rdqTALPuhx

— Sajid Javid (@sajidjavid) June 3, 2018
Responding to the recommendations of MI5 and the counter-terrorism police's Operational Improvement Review into the 2017 terrorist attacks, which was overseen by David Anderson, new multi-agency approaches – initially in London, Manchester and the West Midlands – involve MI5 and the police using and sharing information more widely, working with partners such as local authorities to improve our understanding of those at risk of involvement in terrorism and enable a wider range of interventions.
Through Prevent, the government, local authorities, police and communities will continue to safeguard and support vulnerable people from the risk of being drawn into terrorism, working with a wide network of partners to prevent radicalisation and build resilience. Javid also says.