Nigerian Army Seize Three Truckload Of Amunition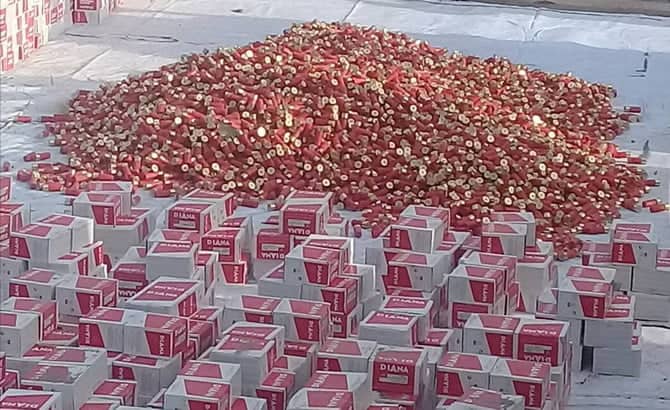 The Nigerian Army has impounded three trucks loaded with ammunition smuggled into the country from Owode  oyo , Southwest Nigeria, Naija News Understands.
Brigade Commander of 35 Artillery Brigade, Ogun State, General Olaniyi Olatunde said the three trucks contained more than 300,000 live cartridges of pump-action ammunition.
"Following a tip-off received from well-meaning Nigerians during anti-illegal bunkering, anti-pipeline vandalism and anti-smuggling patrols, on May 30, 2018, at about 2:58am, troops of 81 Division, Nigerian Army, in conjunction with the Nigeria Police, Department of State Security, Nigerian Security and Civil Defence Corps, intercepted three five-ton trucks with vehicle registration numbers ANAMBRA AAH 409 ZV, LAGOS BDG 782 XU and LAGOS GGF 88 XU loaded with thousands of live cartridges, at Balogun village, along Igbogila-Ilara road, Ogun State.
"The live cartridges in boxes and cartons were carefully concealed and sealed in a false-base made up of wooden platform with metallic plates. The drivers and their crew, on sighting troops, abandoned their trucks and fled. A team is on the trail of the fleeing drivers, their crew, collaborators and sponsors, as investigation is ongoing."
He added that the drivers of the trucks fled and abandoned the ammunition but efforts are being made to get them.
While displaying the impounded trucks and ammunition before newsmen, he said the trucks were impounded following intelligence report.