2019: PDP Accuses Buhari Of Frustrating Women And Youth's Participation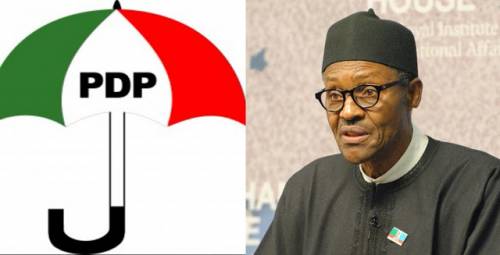 All Youths Of Voting Age Should Be Able To Seek Election Too – PDP
The Peoples Democratic Party (PDP) today has accused President Muhammadu Buhari and the All Progresive Congress (APC) of using different strategies to frustrate the participation of youths and women in politics and governance.
In a statement issued by its National Publicity Secretary, Kola Ologbondiyan, the party described as degrading and completely unacceptable, a statement credited to the President that Nigerian youths should not contest for President in the 2019 election.
It further said the statement is unpresidential, unlawful and discriminatory, adding that it further shows the disdain with which the President holds the youths.
"We want Nigerians, particularly, the youths, to note that President Buhari's position reflects the policy of his dysfunctional All Progressives Congress (APC) not to allow our youths the opportunity to aspire at top levels.
"It is unimaginable that a President can sign a law and immediately seek to suspend it. President Buhari's attempt to talk down on and intimidate the youths from contesting against him in 2019 shows that he is not in support of the Not Too Young To Run law and only assented to it because he had no other option under the 1999 Constitution (as Amended).
"We therefore urge Nigerians to be alert and wary of booby traps as well as land mines that the APC and the Presidency will set on the way to scuttle the quest for our youths to fully participate and aspire in our democratic process," it said.
PDP noted that the Nigerian youths had come of age and were free, under all circumstances, to contest for any position, including the office of President in the 2019 general election.
Promising that if returned to power in 2019, it will further push for the amendment of the electoral laws to enable any Nigerian that can vote the right to stand for elections,  PDP called on "..all Nigerian youths to note that President Buhari and the APC have nothing to offer them and the nation at large. They should therefore spare no thoughts in jettisoning all support for President Buhari and the APC in their 2019 reelection bid.
"As we march to 2019, the PDP charges all Nigerian youths to come together and rally on our repositioned platform and give vent to their wishes and aspirations, within the circle of our collective task, to rescue our nation from the misrule of the APC,"