Senate Approves 4, Rejects 1 Buhari Nominee As Members Of CBN Board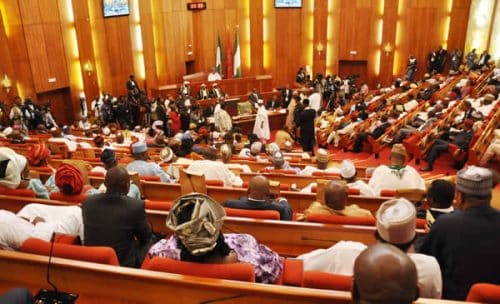 Senate Approves Members Of CBN Executive Board
The Nigerian Senate today, Thursday has confirmed four of five nominees for the seats of non-executive directors of the board of Central Bank of Nigeria (CBN).
Out of the five names that  President Muhammadu Buhari had nominated,  the senate confirmed Ummu Jalingo, Justitia Odinakachukwu, Mike Obadan and Adeola Adetunji respectively. 
Abdu Abubakar was however rejected as senators said they were dissatisfied with his responses to their questions.
Senate President, @bukolasaraki refers the confirmation of Dr. Abdu Abubakar as Non-Executive Director of the Board of Central Bank of Nigeria to the Committee on Banking for further legislative action.

— The Nigerian Senate (@NGRSenate) May 31, 2018
The confirmation of the names followed the adoption of the reports by the Senate Committee on Banking, Insurance and Other Financial Institutions which screened the nominees on Wednesday.
The chairman of the committee, Rafiu Adebayo (APC, Kwara South), who read out the report to the Senate, described the four confirmed nominees as "very resourceful, diligent, articulate, competent.