Nigerian Youth Are The Greatest Resource – Buhari Says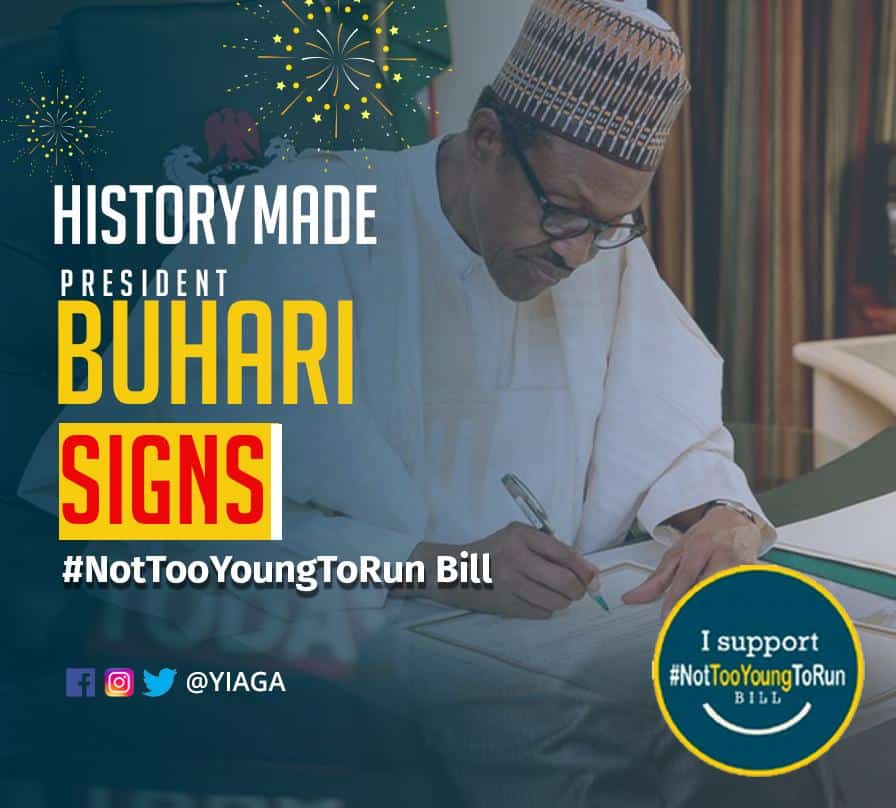 President Muhammadu Buhari has described the Nigerian youth as the most important resource of the country, Naija news.The president stated this today in Abuja after signing the "Not Too Young To Run Bill" that will reduce the age requirement for political offices.
The event, which held inside the council chamber of the presidential villa, was attended by young persons from the 36 states and the Federal Capital Territory.
"You are undoubtedly Nigeria's most important resource – not oil, not agriculture, not solid minerals – but you and all of us," Mr Buhari said after signing the bill into law.
The president, who was stridently criticised for comments he made in London in April, in which he implied that Nigerian youth were lazy, on Thursday told his youth audience "your energy, intelligence and talent are what will drive and develop Nigeria, long after we are all gone."
He said the bill he signed was a landmark piece of legislation that was "conceived, championed and accomplished by young Nigerians".
He said the coordinators of the Not Too Young To Run movement have now established a formidable legacy, which proves that as the country's democracy matures, "if you really want to change something in Nigeria, and if you can organise yourselves and work hard towards it – you can achieve it. The outcome of such efforts is this remarkable feat".
Mr Buhari said the young people of Nigeria are now set to leave their mark on the political space, just as they have done over the decades in entrepreneurship, sports, art, media entertainment, technology, and several other fields. He said his administration is determined to do everything in its power to make Nigeria work for its youth.
Mr Buhari told the youth that it may be tempting for them to think that with the signing of the bill into law, "this as the end of the journey".
However, he said, it is only the beginning as they still have a lot of work ahead, towards ensuring that young people take full advantage of the opportunities provided not only by this constitutional amendment but also through Nigeria's boundless prospects.
Source: Naija News