Breaking News: Ex-Taraba Gov, Jolly Nyame Sentenced To 14 Years In Prison Without Fine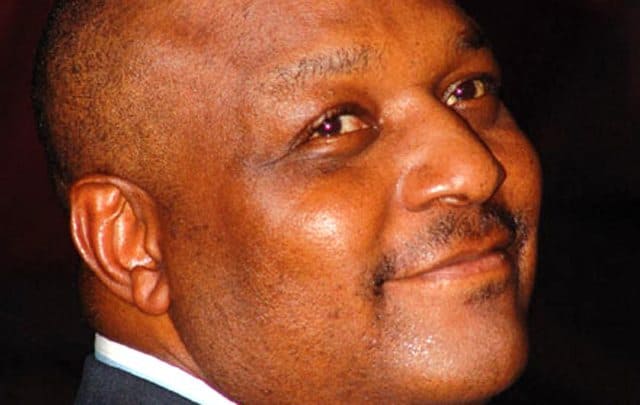 Court Delivers Judgement In Jolly Nyame's Case
Jolly Nyame, former Governor of Taraba State, who was accused of misappropriating about N1.6bn of the state's funds and has been found guilty by a federal high court sitting in Gudu, Abuja, and sentenced to 14 years in prison without option of fine.
The judgement was delivered by Justice Adebukola Banjoko on Wednesday.
The court's environs was guarded with tight security as policemen took turns to check every vehicles on the road and at the gate leading to the court, people were also checked before allowed into the courtroom.
The trial had largely been stalled by the successive appeals by Nyame challenging the validity of the charges instituted against him by the Economic and Financial Crimes Commission in July 2007.
The trial began to gain some speed when the Supreme Court laid the defendant's appeals against the validity of the charges to rest by dismissing it in 2016.
Nyame had been charged by EFCC with 41 counts of criminal breach of trust, criminal misappropriation, taking gratification and obtaining valuable thing without consideration.
The prosecution's case against Nyame revolved around alleged diversion of N1.64bn of Taraba State's funds while he was governor.
It alleged that the alleged criminal breach of trust was in breach of section 315 of the Criminal Code Act, the act of criminal misappropriation
The prosecution led by Mr. Rotimi Jacobs (SAN) had on November 22, 2016, closed its case against Nyame after calling 14 witnesses.
Justice Banjoko, in a judgement which lasted for up to four hours, found the former Governor of Taraba State, Jolly Nyame, guilty of 27 of the 41 counts preferred against him.
The judge blamed Nyame for financial recklessness and brazen display of executive power without following due process.
According to the judegment, the former governor was jailed two years for misappropriation of government funds, seven years for receiving gratification, and five years for obtaining valuable government properties without consideration.
However, the jail terms are to run concurrently.