Okorocha Runs Imo APC Like A Private Business – Okoko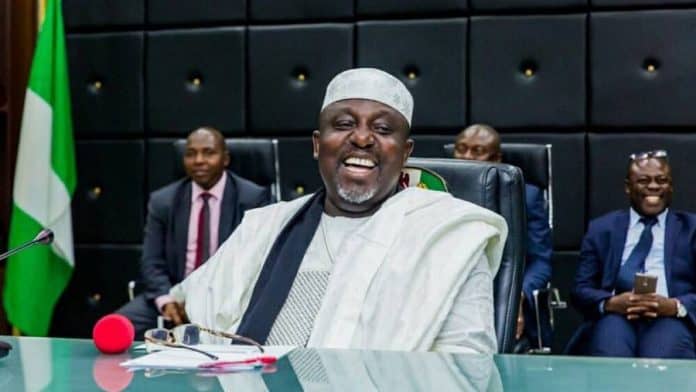 APC May Soon Lose The Reins Of Power – Ben Okoko Predicts
While Governor Rochas  Okorocha of Imo state shows optimism and faith that he will win the 2019 elections , a chieftain of the All Progressive Congress (APC), Ben Okoko has predicted that APC will soon lose the reins of Imo State.
The onetime Chairman of Nigeria Bar Association (NBA), Idemili branch, Anambra state, who made the disclosure while fielding questions from newsmen in his office, weekend, said,"What is happening in Imo state now is dicey. Governor Rochas Okorocha has been running the APC machinery as his private enterprises and he has been very vocal about who will succeed him.
"By the time he started doing this thing he forgot that some people are professional politicians and that it did not go down well with them and somewhere along the line, when the chips are down, they had to play politics to the best of their ability by grabbing the party machinery."
"With the latest development and presence of Senator Hope Uzodinma, Senator Ifeanyi Ararume, among others, whatever political position Okorocha is targeting at, will be a different ball game as Imo state has intelligent men.
"People are not happy with the goings on in Imo state now. Shortly before the primaries, Senator Ararume has been in the race, Senator Uzodinma joined APC recently, so it is a clash of the titans.
"You don't have the likes of Uzodinma and Ararume, all in the same party and Governor Okorocha and his team will be directing the affairs of the party, that is the situation now, he noted.
He, however, expressed optimism that with the calibre of people in the party now like senators Uzodinma, Ararume and others, APC can still clinch the governor's seat come 2019, but maintained that the situation remains dicey.
Similarly, Okoko expressed uncertainty over the second term of President Muhammadu Buhari, he stated that, "Mr. President has not done well and has no moral justification to clinch that position again because the way things are going on, it is like we don't have security personnel that will quench the incessant killings in Benue and other places.
"For the fact that Mr. President has been looking and watching these people doing what they are doing, it is like either security agencies are not acting on instruction or that there is much to be desired in terms of operation.
"It is not just the Catholic reverend fathers that were killed in their places of worship, some people were killed at Nkpor while they were in the church during the IPOB saga. The security agencies should live up to expectation," he stated.