Democracy Day: PDP Gives Buhari 2019 Quit Notice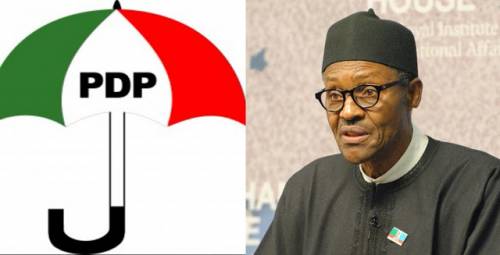 Buhari Is Celebrating His Last Democracy Day As President  – PDP
The National Chairman of the Peoples Democratic Party, (PDP), Uche Secondus, has called on Nigerians to vote out President Muhammadu Buhari and the ruling All Progressives Congress (APC) in the 2019 general elections.
The PDP chieftain also scored President Buhari's administration low on the occasion of its third year in office at the helm of affairs in the country.
Secondus made the submissions in a statement issued by Ike Abonyi, his Special Adviser on media in Abuja on Tuesday in commemoration of this year's Democracy Day.
The PDP national chairman, while regretting the deplorable state of Nigeria's economy, called on the people of the country to ensure they collect their PVCs and vote out Buhari and APC in 2019.
"Such horrible situation where a day they should be celebrating freedom and good governance, they are instead burying their innocent ones and groaning in the avoidable hardship," he lamented.
"If Democracy must survive in our country we must do away with APC and Nigerians are ready and willing to do just that because they cherish democracy as the best form of government.'
"Going by their poor record of performance in the last 36 months, and the determination of Nigerians to put the country in the right footing, this is the last Democracy Day this President will mark.
"Their agenda now is to intimidate, harass and scare opponents to create a Police state with the aim of turning the country into one-party state but it must be resisted by Nigerians who passed similar road before and came out victorious.
''The next Democracy Day May 29, 2019, which Nigerians and indeed all lovers of democracy are anxiously looking forward to would be the smooth transition from confusion and purposeless governance to real democracy which the Peoples Democratic Party (PDP) is returning to gift to the Nation."
Source: Naija News