Motorists Who Knock Down Children Risk Two Years Imprisonment – FRSC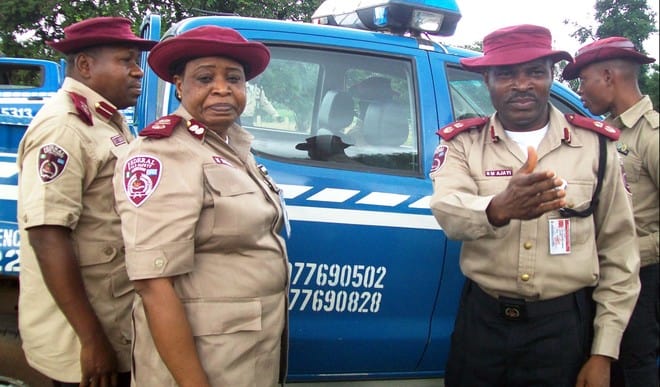 Any motorist who knocked down a child may soon risk two years imprisonment, Federal Road Safety Corps ( FRSC) says.
FRSC's Zonal Commanding Officer in charge of Lagos and Ogun States, Mr John Meheux, disclosed this at the 2018 Children's Day celebration on Monday in Lagos.
 "I have some worries of school children being knocked down by reckless drivers.
"The corps will prosecute such drivers and they may stand the risk of two years imprisonment.
"There are some drivers who are not licenced but still find their way on the road, such drivers will be prosecuted for murder." Meheux said.
He assured that FRSC will ensure that Children in and out of school as well as places of worship
will also be protected.
Meheux said that the FRSC Corps Marshal, Mr Boboye Oyeyemi, was committed to the safety of the children.
"Never again shall our children be killed or knocked down by reckless drivers on Nigerian roads," Meheux said.
According to the News Agency of Nigeria (NAN) the FRSC 2018 Children's Day celebration was tagged: "Awakening Road Safety Consciousness in the Youths".
Hyginus Omeje, FRSC Lagos State Sector Commander, admonished children to always pay attention to drivers while on board.
Omeje, while representing the Head of Operations, Mr Olalekan Morakinyo, advised children to be vigilant and cultivate the habit of calling reckless drivers to order when on board.
"Whenever you are in a vehicle with your parents or any driver, do not sleep but be involved in driving by cautioning them when they drive recklessly," Omeje said.
Mr Bashiru Adeyemi, Lagos Sector Head of Special Marshal, in his welcome address disclosed that the future of the nation lay in the hands of the youth.
"It is therefore imperative that we do not allow careless motorists or motorcycle riders to cut their visions through road traffic crashes," Adeyemi said.