Ebola: Medical Experts Advise As Super Eagles Warm Up To Meet Congo Players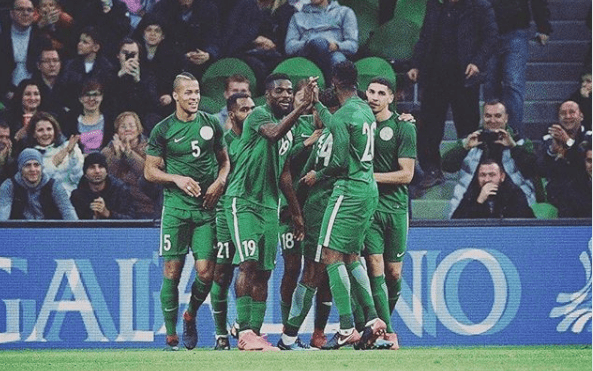 Ebola: Medical Experts Advise As Super Eagles Warm Up To Meet Congo Players.
Ahead of the international friendly match between Nigeria's Super Eagles and their counterparts from the Democratic Republic of Congo, DRC, Nigerian medical doctors have expressed their views even as reports of Ebola herald the later.
In the views of a professor of Medicine and Endocrinology at the Lagos University Teaching Hospital, LUTH, Prof. Olufemi Fasamade, there is no cause for alarm as the likelihood of bringing the virus to country was low.
Fasamade  who described the Ebola disease as an easily suspected condition noted that vigilant port health authorities could  screen and isolate ill people at the ports. He explained that at risk people can also be identified by simply administering a questionnaire too. "So there should be no panic or fear. Ebola is endemic in that country like Lassa fever is endemic in ours and Zika fever in others, he explained.
However, expressing divergent views, the Chairman Medical Guild, Dr. Saheed Babajide who urged the federal government to demand for the health status of the team and also authenticate the report here in Nigeria before the team is allowed into the country.
According to Saheed, it would be disastrous if Nigeria should repeat the mistake of the past. "Even after authenticating the results, as the team is landing at the airport, there should be comprehensive screening of the team again.
The government should look beyond the diplomatic problem, but consider the risk that will come out of it if anyone of them is infected and a single Nigeria contract it. "If it were in developed countries like the United States, they will not even allow them to come but because we are Africans, in the spirit of oneness, we should test all of them before the commencement of the match."
He further lamented that even in the health facilities in Nigeria were not proactive in terms of prevention. "What is on ground? By now, with the 2014 experience, Nigeria would have build Infectious disease hospitals at least in all the six geopolitical zones. But we are waiting for it to happen first.
"When you go to different public hospitals, all the precautionary measures are not available in the hospitals. We should have free running tap water, disposable cloves, face masks, needles and other consumables but these things are not available. Government at all level should sit down and map out strategies on how to prevent Ebola or any other infectious disease by making sure the borders and hospitals are safe."
The match between Nigeria and DR Congo is scheduled to hold at the Adokie Amasiesimaka Stadium, Port Harcourt on May 28.
Naija News reports the friendly match had already been scheduled and agreed before the break out of the dreaded Ebola virus in DR Congo.
Source: Naija News