Nigeria Denies 30,000 Illegal Immigrants Living In Germany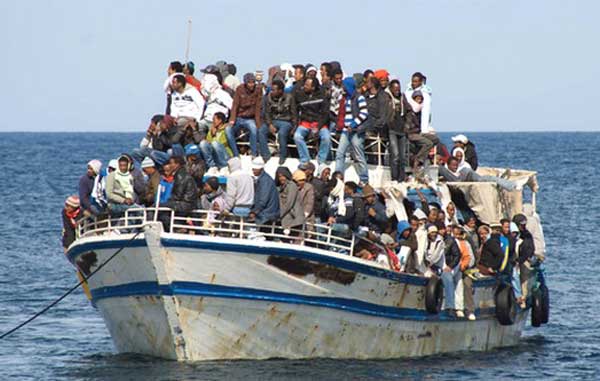 Nigeria Doesn't Have 30,000 Illegal Immigrants In Germany
Nigeria, through its Head of Mission in Germany, Amb. Yusuf Tuggar yesterday described claims that over 30,000 Nigerians are living as illegal migrants in Germany as false.
He said "To begin with, we dispute that figure of 30,000. That is not the case. We do not have up to 30,000 Nigerians asylum seekers in Germany," Tuggar, told newsmen in Abuja.
The Security Adviser to the President of Germany, Dr Jan Hecker, had on May 15, told the Minister of Foreign Affairs, Geoffrey Onyeama, that Germany would soon start taking steps to depot over 30,000 illegal Nigerian migrants.
Tuggar said that many of those who claim to be Nigerians in Germany are untruthful, stating that anyone from other African countries can easily claim to be Nigerians.
"We have a lot of walk-ins in the embassy, people coming in and say I am tired I want to go home, help me out, issue me an emergency travel certificate and we do immediately and they go back.
"But we have to be careful there as well because there is a tendency to just think that x number of Nigerians in Germany are illegal.
"You will find out that a lot of the people that are purported to be Nigerians are not even Nigerians.
"We interview them and I personally I have participated in interviews of asylum seekers and you will find out that a lot of them come from other African countries," he said.
According to him, what the world needs to realize also is that we Nigerians actually have a "shock absorber"; we take in a lot of migrants from other African countries.
"Some of them actually come here seeking for greener pastures. So it is not enough if you arrest someone on charges of being an irregular migrant or an illegal alien and you look at his phone and you see Nigerian phone numbers to just assume that he is a Nigerian that is not the case.
"Like I said, I have participated in interviews and these are joint interviews between Nigeria as represented by the Embassy and the German authorities including the German Federal Police.
"And, you will find out that in a lot of the interviews you have non-Nigerians and they themselves admit to us of not being Nigerians after they talked to us," he said
The envoy also explained that the mission does not issue emergency travel certificate to migrants who have medical conditions that make them unfit to travel.
He said some of them have gotten married or have children with German citizens or undergoing some sort of educational course or a vocational training.
"Now all these things that I have mentioned to you, if you were to issue an emergency travel certificate to such an individual and have him deported from German, you will be contravening German laws.
"These are not our laws to begin with. They have certain laws that preclude the deportation or expulsion of individuals that are undergoing treatment or have a particular ailment.