Amnesty International Accuses Military Of Raping IDP Women, Children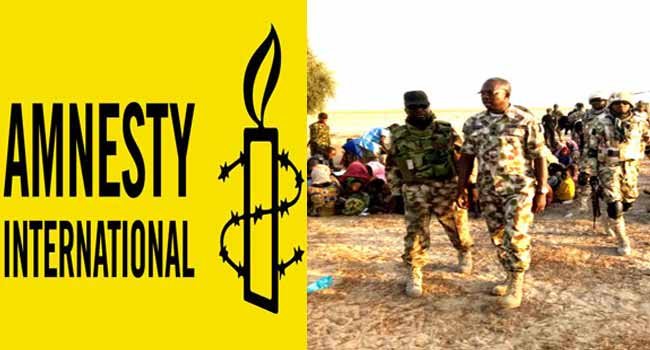 An human rights group, Amnesty International has once again accused  Nigerian soldiers, placed at the IDP Camp for safety of raping,starving and forcing the women and children to exchange food for sex.
Thousands of these women have died because of lack of food in camps for internally displaced people in Nigeria's northeast after they were rescued from Boko Haram, Amnesty says.
In the report titled 
"They betrayed us,"
it is alleged that five women said they were raped by soldiers in late 2015 and early 2016 in a displacement camp in Bama, Borno state.
Women interviewed by Amnesty said they were beaten and called "Boko Haram wives" by security officials whenever they complained about their treatment.
The report says that members of the Nigerian military and a local vigilante group Civilian Joint Task Force (Civilian JTF) "separated women from their husbands and confined them in remote 'satellite camps' where they were raped, sometimes in exchange for food."
Ten women in the Bama camp told Amnesty they were forced to date security officials to get food. One woman said a member of the JTF vigilante group raped her after he brought her food, telling her: "I gave you these things, if you want them, we have to be husband and wife."
"Sex in these highly coercive circumstances is always rape, even when physical force is not used, and Nigerian soldiers and civilian JTF members have been getting away it," Osai Ojigho, Director of Amnesty International Nigeria said.
"They act like they don't risk sanction, but the perpetrators and their superiors who have allowed this to go unchallenged have committed crimes under international law and must be held to account."
It also accused civilian JTF members of taking advantage of hunger to coerce women to become their "girlfriends", which involves being available for sex on an ongoing basis.
The report further stated that as the military recovered territory from the armed group in 2015, it ordered people living in rural villages to the satellite camps and in some cases indiscriminately killed those who remained in their homes.
According to the report, the military was said to have screened everyone arriving to the satellite camps, and in some locations detained most men and boys aged between 14 and 40 as well as women who travelled unaccompanied by their husbands.
"The detention of so many men has left women to care for their families alone," Amnesty International said.
According to the organisation, at least hundreds, and possibly thousands, died in Bama Hospital camp alone during this time.
It also noted that those interviewed consistently reported that 15 to 30 people died each day from hunger and sickness during these months.
"Satellite images, showing how the graveyard inside the camp expanded quickly during this time, confirm their testimonies. There were also daily deaths in other satellite camps such as those in Banki and Dikwa,"AI said.
The Military, however, responded to the report, describing it as malicious and untrue.
In a statement by the Acting Director, Defence Information, Brigadier General John Agim, the military said it is unhappy with what it believes is becoming a frequent ritual by the human rights watchdog, which had previously accused it of rights violation.