Five Men Remanded By Court For Allegedly Raping And Videotaping Teenagers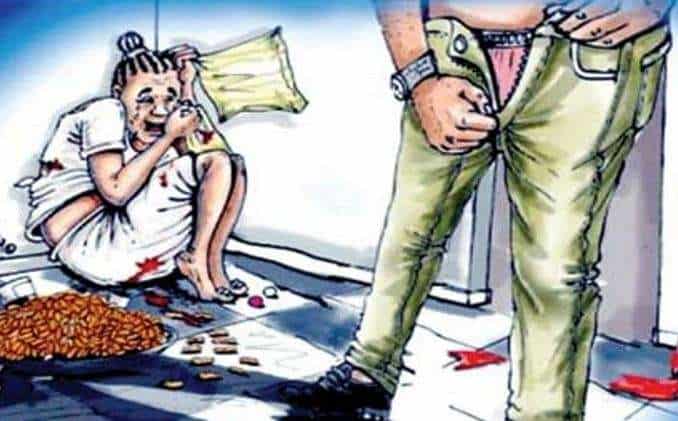 Rape Accused Shares Nude Pictures Of Victims Online
Five men has been reportedly remanded in prison by a Chief Magistrates court sitting in Ondo State, for allegedly raping and torturing two teenage girls in the town, whose names were withheld.
The accused who were arrested by the men of the Ondo State Police Command are, Bode Akinsiku, Femi Olabanji, Abiodun Ayodele, Wahab Fadairo and Adebayo Adedayo, after committing the offence last week on Kogbona street.
The victim of the rape were said to have been videotaped after which they were tortured and their nude pictures posted on the Internet.
They were arraigned before the court on six counts of conspiracy, rape, defamation of character and torture.
Mr. Bernard Olagbayi, the prosecutor, said the offences "are contrary to and punishable under sections 516, 351, 360, 367, 359 and 375 of the Criminal Code, Cap 37, Vol. 1, Law of Ondo State of Nigeria, 2006."
The accused pleaded not guilty when the charges were read to them. The prosecutor prayed the court to grant him a short adjournment to enable him to arrange all his witnesses.
Counsel for the accused, Mr. Adesanmi Olanrewaju, Mr. O.A. Akinbinu and Mr. A.J. Akindele, urged the court to grant the accused bail in liberal terms.
They noted that the victims were not in court, adding that the accused were still presumed innocent of all the allegations levied against them.
But the counsel for the victims, Mills Orlu, opposed the bail applications by the counsel for the accused, arguing that the absence of the victims in the court was as a result of security threats received from family members of the accused.
Mrs. B.F. Ajibade, the Chief Magistrate, declined bail to the accused and ruled that the five men should be remanded in prison.
She adjourned hearing of the case till June 21, 2018.