Ebola: WHO Says Virus Has Reached "Knife Edge" Stage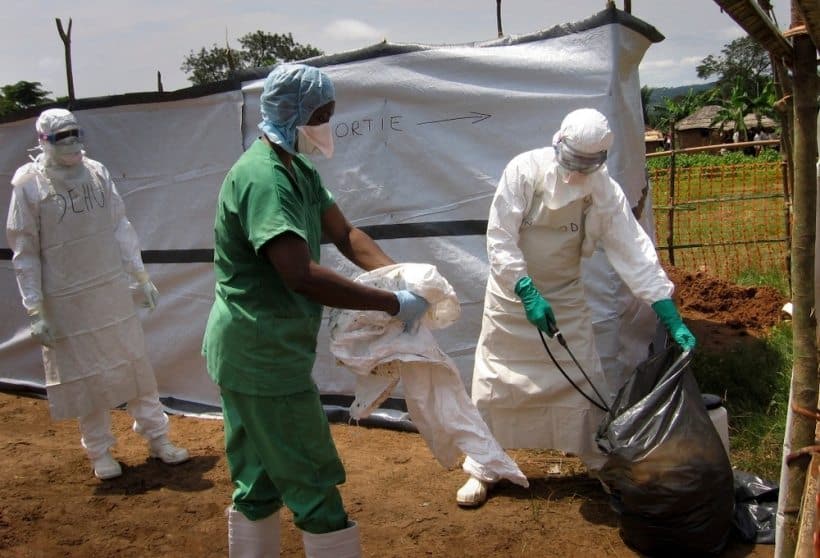 Ebola: WHO Worries As Death Toll Hits 58 And Is Still Counting
The deadly Ebola Virus Disease ( EVD) outbreak in the Democratic Republic of Congo has a clear "potential to expand", the World Health Organization (WHO) warned Wednesday, as it reported seven more cases of the disease.
This, Peter Salama the WHO person in charge described the stage of the breakout as "epidemiological knife edge" in a special meeting.
"The next few weeks will really tell if this outbreak is going to expand to urban areas or if we are going to be able to keep it under control," said Salama.
The agency issued a new toll, saying there had been 58 cases since the outbreak was declared on May 8, an increase of seven over figures issued on Tuesday, of which 27 have been deaths.
One of the world's most notorious diseases, Ebola is a virus-caused haemorrhagic fever that in extreme cases leads to fatal bleeding from internal organs, the mouth, eyes or ears.
Naija News reports that the outbreak began in rural northwestern DR Congo in a remote location called Bikoro.
Last Thursday, a first case was reported in Mbandaka — a city of around 1.2 million people that lies on the Congo River, where it is a transport hub to Brazzaville and Kinshasa downstream and to Bangui, upstream.
So far, seven cases have surfaced in Mbandaka districts, WHO said.
"An urban case means that it can spread quickly. That is another challenge,"  WHO chief Tedros Adhanom Ghebreyesus told Wednesday's special session during the agency's annual World Health Assembly.
"The proximity of the outbreak to neighbouring countries, especially through the river connection, was a major concern", he said.
Salama who noted that that another concerning factor was the infection of five healthcare workers said "That is a tragedy in its own right, but it also signals the potential for further amplification," he said.
At the same time, though, the top WHO officials and DRC's ambassador to the UN in Geneva, Zenon Mukongo Ngay, who spoke at the event, stressed the massive efforts put in place to halt the outbreak.
Salama reports that in just two weeks of the outbreak, clinical care facilities have been set up, an air bridge has been established to Bikoro, emergency financing has been mobilised, protective gear and emergency medical kits have been supplied.
He added that a vaccination campaign has begun and more than 120 staff of WHO alone have been deployed alongside numerous staff from other organisations under the leadership of the DRC government.