Breaking Nigeria News: Police Attack MASSOB Protesters With Teargas, Arrest Many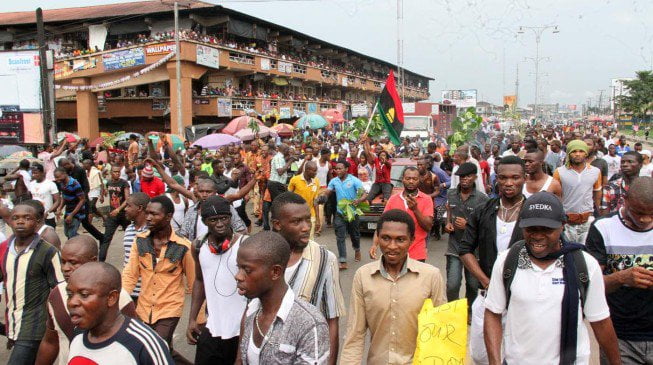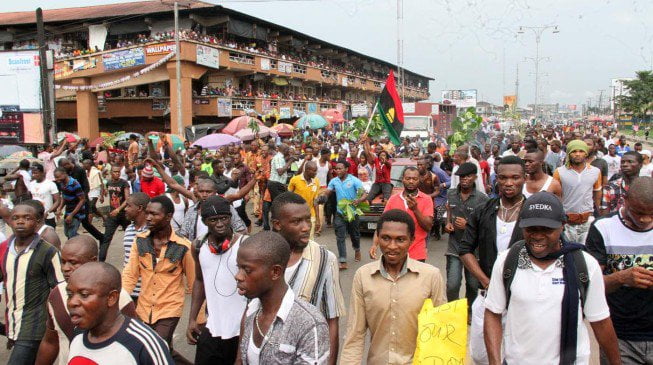 Palpable pandemonium broke out today when police operatives assisted by other security agencies forcefully disrupted a peaceful protest by the Movement for the Actualisation of Sovereign State Of Biafra (MASSOB) in Abakaliki, the Ebonyi State capital.
According to a report by Premium Times, the separatists were on a peaceful march round major streets of the city when they were teargassed and some arrested.
The group had earlier announced the protest to commemorate the declaration of Biafran Republic by its leader, Ralph Uwazuruike.
However, security agencies in the state did not allow them to hold the protest in peace as they accosted them along Nkaliki road and threw tear gas at them to disperse them while arresting some of them.
The Commander of Nigerian Millitary Cantonment in Nkwegu, S. O. Sadiq, confirmed the participation of the army in the incident and arrests. He said the arrested persons were handed over to the police.
He stressed that MASSOB did not notify security agencies in the state of the event in writing which necessitated the action to stop the march.
The police spokesperson in the state, Loveth Odah, also confirmed the incident but could not give the actual number of persons arrested.
MASSOB, led by Ralph Uwazurike is a pro-Biafra group of separatists who are pushing for independence of the Igbo tribe.
People often confuse the group with Indigenous People of Biafra, IPOB which though has similar agenda, has has been proscribed by the Federal government.
The proscription of the group has irked Human rights activists who daily wonder why the President Muhammadu Buhari-led administration has failed to declare the dreaded Fulani Herdsmen a terrorist group despite the killings credited to them across the country.