Venezuela's Nicolas Maduro Get New Six-Year Term As President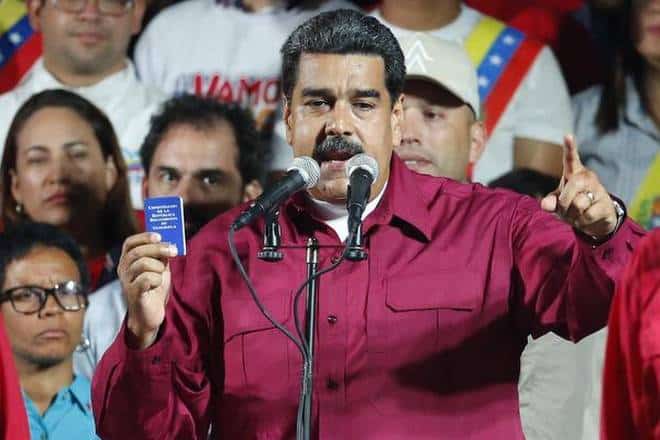 President Nicolas Maduro has been declared the winner of Venezuela's Sunday election in a poll rejected as invalid by his rivals, who called for fresh elections to be held later this year.
Nicholas Maduro has been declared the winner of Venezuela's presidential election with 67.96% (5,823,728 votes).

"The constant aggression of the Ku Klux Klan government of the United States against the people of Venezuela is discredited"- Maduro

Solidarity with Venezuela! pic.twitter.com/AwxF8AzZRm

— Praveen Kumar (@ComradePraveenK) May 21, 2018
Maduro  who spoke yesterday night  to a crowd of cheering supporters at Venezuela's presidential palace in the capital of Caracas  said he is ready to meet with Falcon when and where he wants to set the agenda for Venezuela's future.
The National Election Council chief,  Tibisay Lucena who  announced result said  that with more than 90 percent of the votes counted, Maduro had 67.7 percent of the vote, with his main rival Henri Falcon taking 21.2 percent,
The election gives Maduro a second six-year term amid the oil-rich country's deepening economic crisis that has many Venezuelans struggling to afford food and medicine.
Meanwhile, Henri Falcon, President Nicolas Maduro's main rival in the Venezuelan elections, rejected Sunday's poll as invalid and called for new elections later this year.
"We do not recognize this electoral process as valid, as true. For us, there were no elections. We have to have new elections in Venezuela," Falcon told a news conference, accusing the government of coercing voters.
https://twitter.com/Nigeria News/status/998394674518769664
The United States in line with Maduro's main opposition, Henri Falcon, has rejected  the result of Venezuela's presidential election on Sunday.