Apostle Suleman Reveals Why He Has Never Watched Daddy Freeze's Video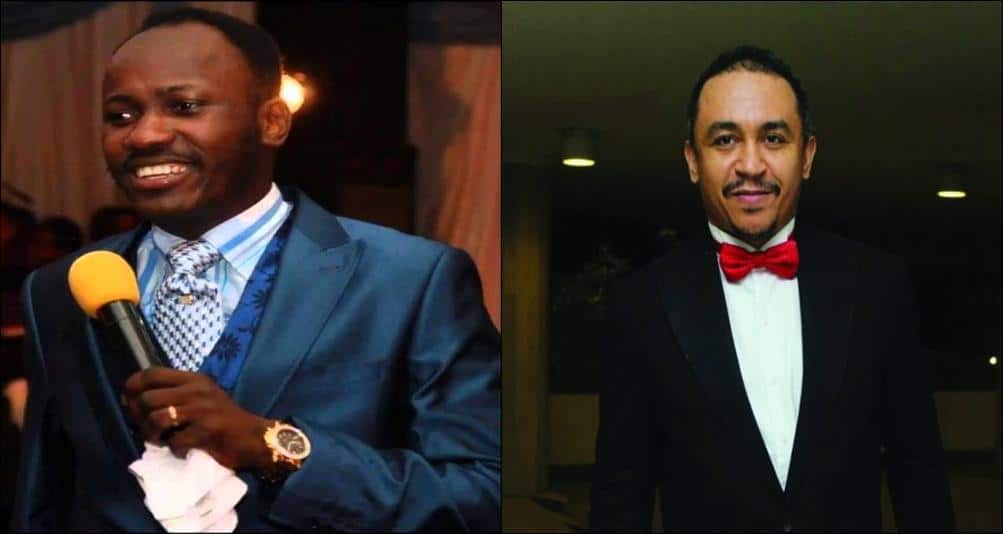 I Don't Hate Daddy Freeze – Apostle Suleman
Apostle Johnson Suleman, the General Overseer and founder of Omega Fire Ministries, has revealed the reasons behind him not wanting to ever watch Daddy Freeze's video.
The General Overseer of Omega Fire Ministries, said during his Sunday service that he chooses to love Daddy Freeze, but would not allow his videos to affect his decisions.
Suleman revealed that, his attention was drawn to a clip released by the controversial OAP analysing his sermon but he chose to ignore the video. The clergyman said that he did not shun the footage for arrogance but to maintain a great relationship with God.
He said, "The enemies of the kingdom are those against the church,brothers can disagree on doctrines and still be brothers.
"I have never watched a video against Freeze because I still want to love him, when I meet him and not hate him.
"You do not conclude a story after hearing one version, we live in a generation where people take one part of a story and analyse it.
"I was told freeze took up my video last Sunday and was analysing it. This is the first time I'm calling his name and there is no need to watch his video not because of arrogance but so that I would not have an impression bad about him.
"I want to see someone like him on the road and hug him and shake his hands.I would not watch his video because I still want to love him and if I do it would affect me and my relationship with God that's why I don't watch such video.
"Analysing me or what I said was very wrong because I have not watched him, Freeze has abused me severally but I thank him for calling me names, in the days of persecution they will call you names but when he goes through his own persecution I will stand by him.
"The enemies of the kingdom are those against the church,brothers can disagree on doctrines and still be brothers."