2019 Elections: Buhari Can't Win Without Kwara's Support – Saraki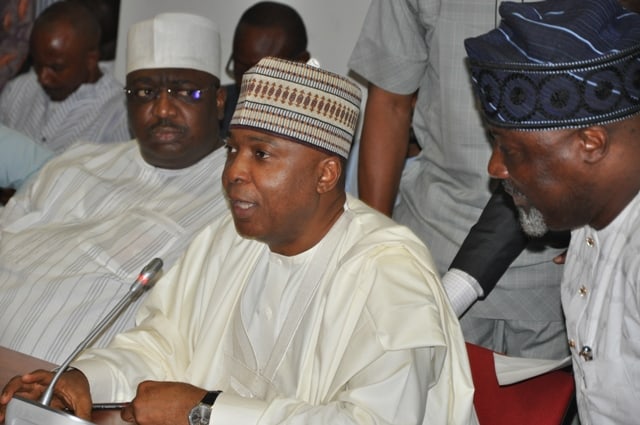 In response to the comment credited to Kaduna state governor, Nasir El-rufai that President Muhammadu Buhari would Triumph in the 2019 elections even if the nPDP decides to revolts against the president in 2019, Nigerian Senate President, Bukola Saraki described the governor's comment has laughable.
Saraki made this known while addressing All Progressive Congress (APC), delegates. He told the delegates,  not to be perturbed over the ongoing issue of an alleged attempt by the police to implicate him through the transfer of a murder case involving some suspected cultists to Abuja.
"I read some people saying they don't need us to win Kwara, hmmmm, I laugh, those who say they will win 2019 without Kwara supports are not versed in history," he said, while bursting into laughter along side some of the delegates.
The governor of Kaduna State, El-rufai have stated that the states of the members of nPDP who complained of marginalization and threatened to leave the party have always supported the president event before those politicians left the rilling party at that time for APC.
Saraki, while speaking on his issues with the police, said: "Concerning what you are hearing, don't entertain any fear. I entertain no fear because I know that God is in control. I am not disturbed. You can see that my face is rosy. I know that God is capable of prevailing over the matter and you people are solidly behind me. So, don't let the matter disturb you."
The senate leader also commended the youth in the party for their commitment, he said that the party was prepared to give them the opportunity to vie for offices in the party, asking that they don't disappoint him and the party.
"In Kwara, we've started a new trend and I know that everyone will soon follow us in that trend. Now all our executives at the ward levels are mainly youths and it is a new approach that will give them opportunity to test themselves and prove their worth.
Indeed the 2019 election will be a test for them, to show us that youths in Kwara can be effective leaders and I have no fear because when I was governor and gave youths the opportunity they performed well." he said.
Saraki, had openly disclose to his colleague during penary that the Police authorities were planning to link him and the Kwara State government to some suspected cult group alleged to be responsible for the death of some important people in the state.