58 Year Old Man Allegedly Rape 12 Year Old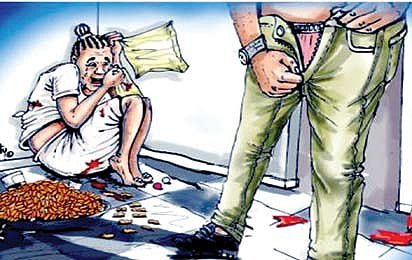 58 Year Old Lambert Ighodaro Rapes 12 Year Old Pupil, Pays Her
The Edo State Police Command has reportedly arrested 58 year old man, Lambert Ighodaro who raped a 12-year-old pupil in Benin, the Edo state capital.
The suspect was said to be arrested after the pupil's class teacher visited her due to her continuous absence in class, the pupil disclosed that the suspect had been sexually abusing her.
The Pupil added that the Mr.Lambert offered her money each time he allegedly raped her.
The acting Chairman of the State Universal Basic Education Board (UBE), Dr Joan Oviawe, who explained that the board received a complaint from the management of the school, also said the board was also investigating two other cases of alleged sexual abuse of two girls aged 11 and eight.
"This (arrest) was after SUBEB received a report of the incident from the class teacher of the 12-year-old girl, who is a pupil in one of government's primary schools," she said.
Oviawe, who is also the Special Adviser to the Governor on Basic Education, also told newsmen that the state government has set up a committee to check the rate of defilement of children in the state, in a renewed effort to strengthen the Child Rights Law to address issues of sexual abuse of children.
According to her, SUBEB is concerned about the welfare of children and will continue to assist victims of rape to overcome the stigma and ensure that the perpetrators are prosecuted.
"Teachers who were trained recently in the Edo Basic Education Sector Transformation programme were trained on ways to identify children who have been abused physically and sexually.
"The state government is reviewing existing child rights law to strengthen it to combat all forms of abuse against children."
Source: Naija News