Melaye's Case Adjourned Indefinitely By Court On Health Grounds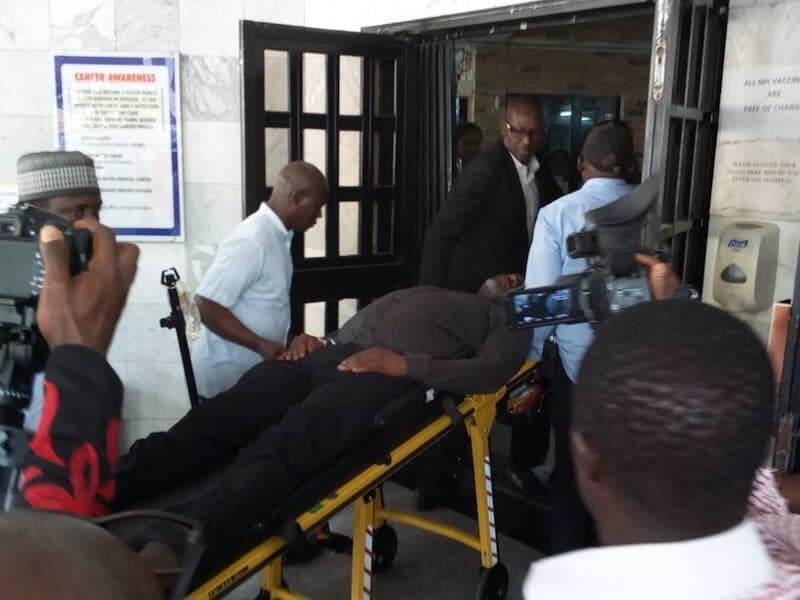 A matama Based FCT High Court, have on Thursday adjourned the trial of Senator Dino Melaye indefinitely, being tried for two counts bordering on giving false information, offences he denied committing.
Justice Olasumbo Goodluck had earlier on Wednesday adjourned until May 17, and ordered the defence counsel to take appropriate steps to explain the absence of the defendant in court.
In Justice Goodluck's ruling on Thursday on a motion for adjournment by Melaye's counsel Mr. Ricky Tarfa (SAN), held that the prosecution did not doubt the health problem of the senator.
"From the gamut of the entire facts placed before the court, the prosecution did not controvert the fact that the defendant was in the National Hospital's Intensive Care Unit.''
Earlier, Tarfa, in an application to justify the senator's absence, informed the court that his client was still lying critically ill at the National Hospital.
The judge, therefore, adjourned the case sine die (indefinitely) pending the recovery of the senator from his illness.
A report was tendered before the court, signed by the Director of Medical Services at the National Hospital , Abuja one Dr. Olaniran, which confirmed that the senator was being managed at the ICU.
Tarfa urged the judge to consider the ill health of the lawmaker as a special circumstance that warranted his absence from trial.
Responding, the prosecuting counsel, Mr. Magaji Labaran, urged the court to discountenance the exhibits attached to the defendant's affidavit, as they did not meet the requirements of the Law.
He added that the elements in the medical reports did not indicate that the defendant cannot come to court to stand trial.