Bolanle Ambode To Pay N500,000 Monthly To Family Blessed With Quintuplets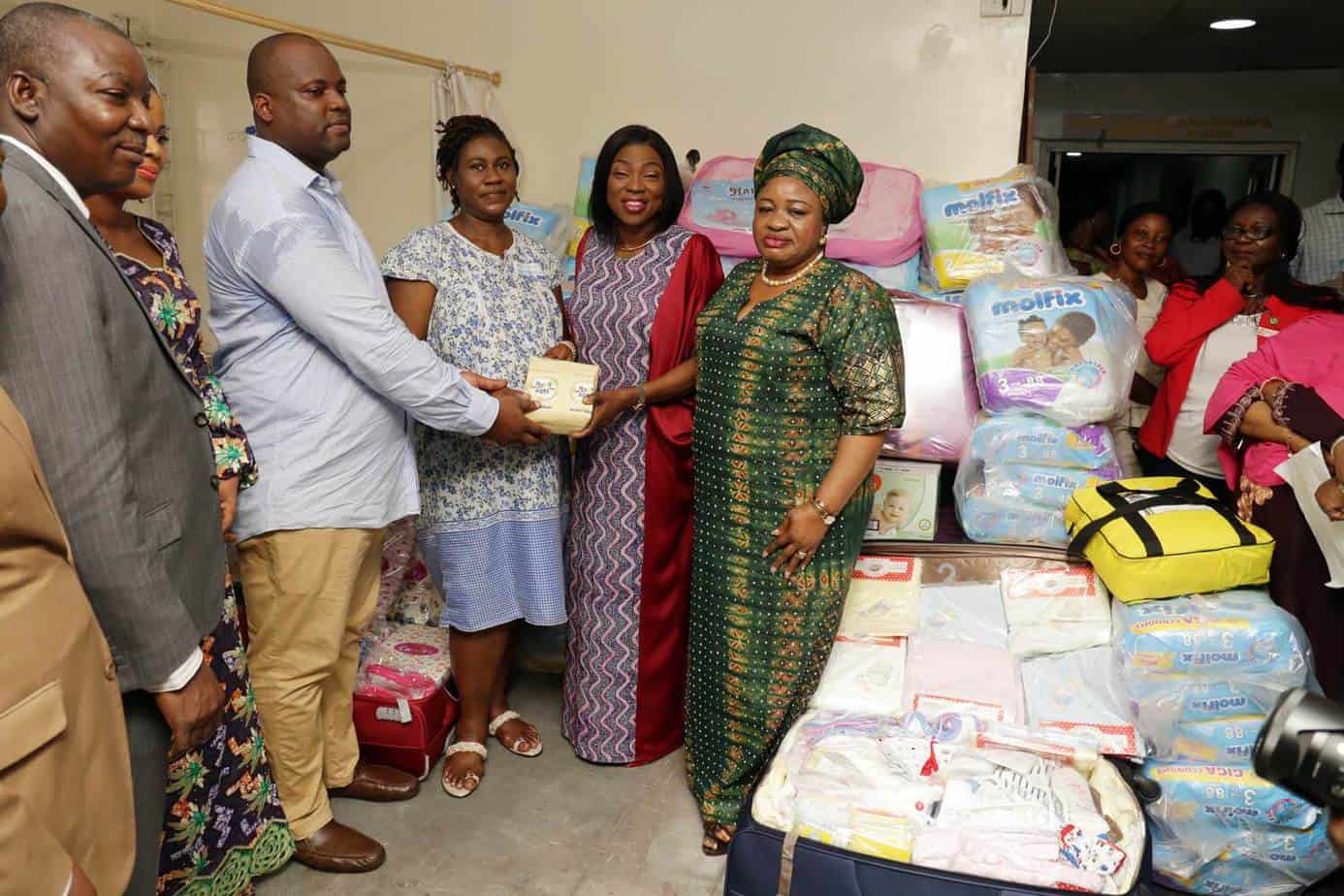 The wife of Lagos state governor, Mrs Bolanle Ambode has offered to pay a monthly sum of N500,000 for the upkeep of a set of quintuplets born to the family of Mr. and Mrs. Augustine Obiefuna of Orile Iganmu area of Lagos state.
Quintuplets are five babies born from one pregnancy.
The governors wife also made further arrangements by providing items such as; supply of diapers for one year; supply of baby milk and other essentials for one year, all these in addition to two bus-loads of baby essentials like beds, mattresses, diapers, boxes of cloths, socks, pants, caps, etc, that accompanied her on a visit to the infants, at the Lagos Island Maternity.
Governor Akinwunmi Ambode also gave an amount(Undisclosed) to the care of the babies, three boys and two girls.
While speaking at the maternity ward, Mrs Bolanle who was obviously happy as she was beaming with smiles, commended their mother, for regularly attending her ante-natal sessions in a government hospital.
She urged nursing mothers to always go to the hospital for their ante-natal care in government hospitals and avoid self-medication.
According to her, "You can all see why it is good to register in a government hospital where standard medical care is guaranteed. This woman registered early and regularly attended her ante-natal clinics. The result is that all five babies were safely delivered to the glory of God".
Mrs. Ambode, who later inspected the maternity ward, promised further donations to the hospital, to strengthen maternal and infant service delivery in the hospital.
Father of the babies, Mr. Augustine Obiefuna, thanked Mrs Ambode for her generosity towards his family, added that it transcends any form of tribalism.
He said, "We are surprised that despite being non indigenes of the State, the Governor and his wife could show us so much love and kindness. They are just wonderful. We never imagined that Her Excellency could personally come here to see our new babies. We cannot stop praying for them and their children, for God's favour, protection and wisdom at all times."
It the first set of quintuplets born in the State this year.