Senate Appeal To JOHESU To End Strike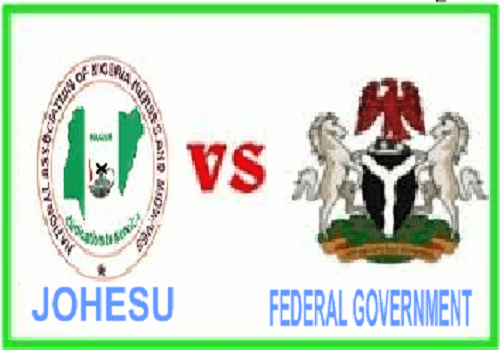 The Senate has today appealed with the the Joint Health Sector Union (JOHESU) to end it's over three weeks old strike which has caused serious problems in the health sector across the country.
Recall Naija News reported that the union had embarked on a strike on April 18 due to the "insensitivity and lackadaisical attitude of drivers of the health sector''.
The senates appeal is sequel to the "Ebola Virus Disease Outbreak in the Democratic Republic of Congo and the Need to Take Precautionary Measures" raised by Sen. Oluremi Tinubu (APC-Lagos) during plenary.
The senate also asked the Minister of Interior to take necessary steps to check immigration.
It further asked the Minister of Health, Isaac Adewole to sought ways to fight any case that might arise and ensure Ebola vaccines are available for emergency cases.
Tinubu said that recent reports by the WHO, showed that the disease was back in neighboring Congo with 19 deaths and 39 infected casualties recorded so far.
"The WHO states that Nigeria and other African countries are at risk of spread.
The lawmaker said that Nigerian hospitals must be adequately equipped with Ebola vaccines, else it would be an epidemic Nigeria may find difficult to contain.
Contributing, Senate Chief Whip, Sen. Olushola Adeyeye called on the Senate to intervene for a quick resolution of the ongoing strike by health workers
On his part, Sen. Victor Umeh APGA-Anambra) noted that "prevention of the disease was better than cure.
"We must ensure that Nigeria is not taken unawares again. We should be on the alert," he said.
The senate President Bukola Saraki said all sectors hands must be on deck to ensure they combat any occurrence of the disease.