Pastor Who Prayed At US Embassy In Jerusalem Faces Controversy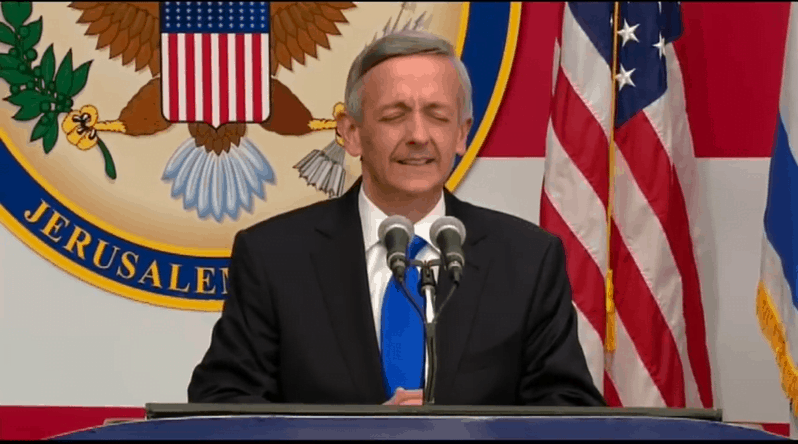 A Christian Minister known for his remarks against Jews, Muslims and gays, is current under heat for honouring invitation by President Donald Trump yesterday to lead a prayer at the inauguration of the US embassy in Jerusalem.
Robert Jeffress, a Southern Baptist preacher in Dallas, Texas, has been Trump's supporter since he started campaigning in 2016.
In his past comment, he said Jews would suffer for eternity in hell, but it was surprising that he offered such prayers in a Jewish state.
The 2012 Republican presidential nominee Mitt Romney, who is Mormon, expressed his opposition to Jeffress addressing the embassy ceremony.
"Robert Jeffress says 'you can't be saved by being a Jew,' and 'Mormonism is a heresy from the pit of hell.'
He's said the same about Islam," Romney, who is currently a candidate for US Senate, said late Sunday on Twitter.
"Such a religious bigot should not be giving the prayer that opens the United States Embassy in Jerusalem."
Jeffress responded with a tweet of his own, saying "historic Christianity has taught for 2,000 years that salvation is through faith in Christ alone," and that such a position, embraced by millions of evangelical Christians, "is neither bigoted nor newsworthy."
The White House on Monday sought to distance itself from the pastor, with spokesman Raj Shah saying he did not know who invited Jeffress to give an embassy blessing.
Asked directly about Jeffress's past statements, Shah said "I haven't seen those remarks, but obviously those aren't remarks that the president agrees with."
Jeffress campaigned with Trump in 2016 and his influence was key to Trump winning an overwhelming majority of the evangelical vote. Last October the president called Jeffress a "wonderful man."
Several offending Jeffress comments  including his declaration that homosexuality is a "perversion" come from a 2010 interview to a religious broadcaster.
On Monday Jeffress steered clear of such language, but he offered full-throated praise of Trump.
"We thank you every day that you have given us a president who boldly stands on the right side of history, but more importantly stands on the right side of you, O God, when it comes to Israel."