Court Strikes Out Dino Melaye's Assassination Attempt Case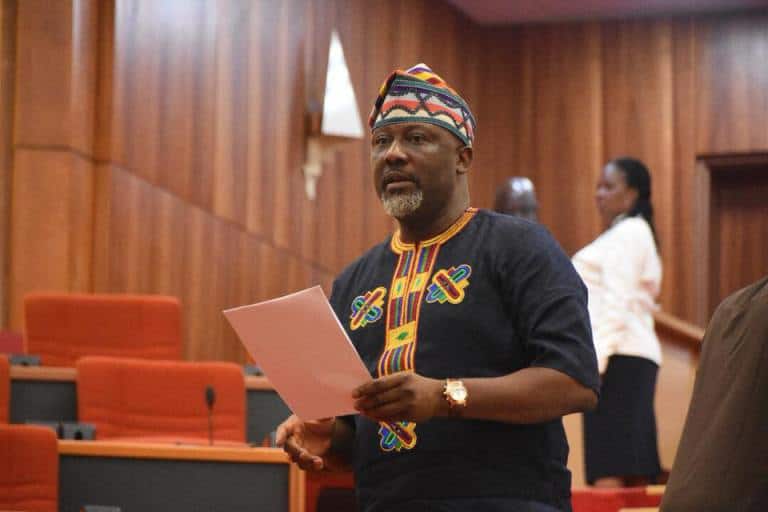 Court Strikes Out Criminal Charges Against Defendant
The Senator representing the Kogi West senatorial district in the National Assembly, Dino Melaye had, in April 2017, approached the court alleging an assassination attempt on his life by Taofiq Isa and four others.
The assassination case involving Taofiq Isa, the chairman, Association of Local Government of Nigeria, and four other, has been thrown out by a Kogi State High Court on Tuesday.
The judge in charge of the trial, Fola Ajayi, regretted that despite four adjournments, the prosecution was not able to call their witnesses.
Others standing trial alongside Isa are: Ade Obege, Abdullahi Isah, Michael Bamidele and Ahmed Ajayi.
But ruling on the matter, the trial judge, Fola Ajayi, noted with regrets that the prosecution counsel could not open his case despite four adjournments.
He, therefore, struck out the case for lack of diligent prosecution. He, however, gave a consequential order for the prosecution to start their case afresh whenever they are ready.
Speaking on behalf of defense counsels, Zakari Abbas commended the judge for the landmark judgment.
He said that the judge, having listened to all parties, said that the petitioners were unwilling to present their witnesses, prompting the judge to arrive at the conclusion that the prosecution has not diligently pursued their case.
"Hence, the charge brought against the defendants have been struck out. As it stands, there is no criminal charges against the defendants.
"However, he gave a consequential order that whenever they are ready with their witnesses, they could approach the court to start their case afresh."
Reacting to the ruling, Mr. Taofiq Isa, who is the administrator of Ijumu Local Government Area, expressed joy and described the ruling as "an act of God," saying that the judiciary still remains the hope of the common man.
He said he has forgiven those who accused him wrongly and called on all Okun sons and daughters to come together in the interest of the development of the area.