Suicide Bombers Attack Indonesian Police Station, Leave 10 Wounded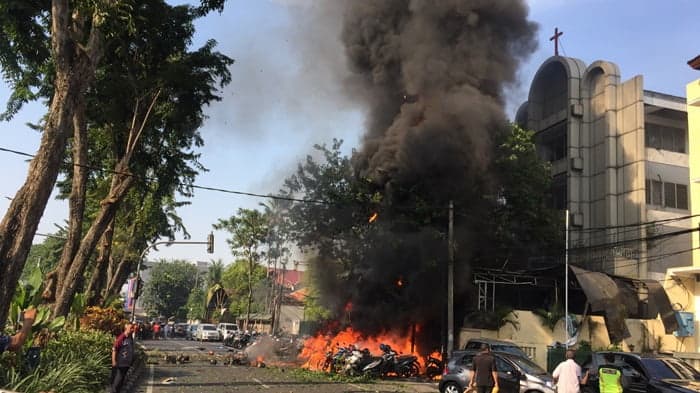 A day after a deadly wave of suicide bombing in churches in Indonesia, two suicide bombers who came in motorcycles have attacked a police headquarters in the country's second city Surabaya, wounding not less than 10 people,including officers and killing themselves.
According to a CCTV footage from the scene, a man and a woman on the bike stopped at the police station.
East Java Police spokesman Frans Barung Mangera said "That's where the explosion happened,"
"Two people were riding (on the motorcycle) and a woman was sitting at the back."He added
Ambulances and the bomb squad descended on the chaotic scene as the 10 injured people included six civilians and four police men.
There was no immediate claim of responsibility after the latest suicide bombing.
"This is a cowardly act, undignified and inhumane," Indonesian President Joko Widodo told reporters in Jakarta.
"There will be no compromise in taking action on the ground to stop terrorism."
This latest bombing come just a day after a family of six including two young daughters took to bombing three churches in Surabaya during Sunday Services.
At least 14 civilians have died as a result of that attack, which was claimed by the Islamic State group, and the toll could climb with more than 40 injured in hospital.