Anthony Joshua Listed As The Fifth Richest Young Star In Britain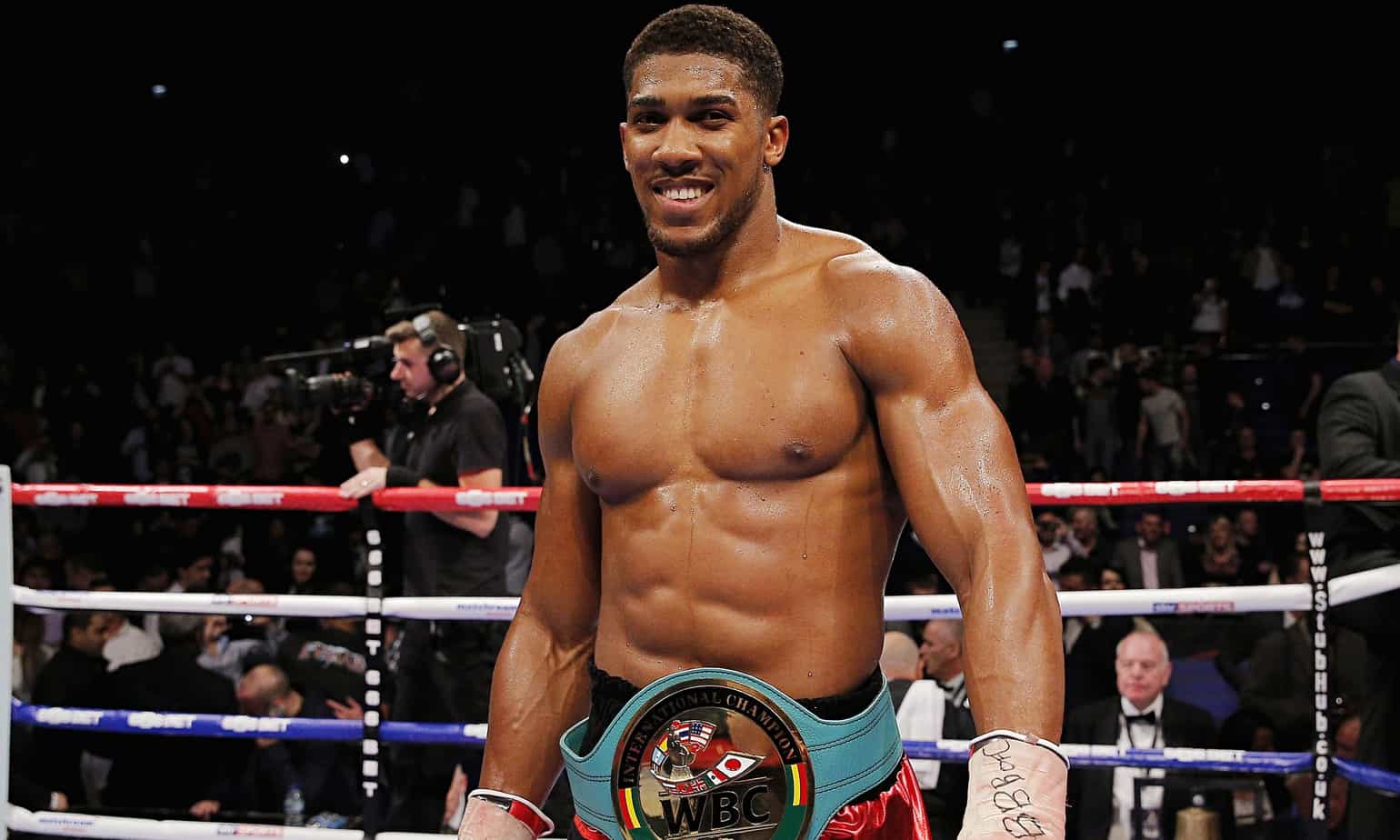 Joshua Ranked Fifth In Young Stars Rich List
Anthony Joshua, British professional boxer and the current unified world heavyweight champion, has been revealed to have seen a boost in his fortune after signing an extension deal worth 100 million euros.
Report has it that the world heavyweight star, who is 28 years old, now has a net worth of £35m and is ranked the fifth richest young sports star in Britain.
The British born Nigerian, Joshua has the record of winning twenty (20) out of his 21 professional fights by a knockout and his wealth has risen by £20m since 2016.
According to The Guardian, the boxer was rewarded with £18m for his title bout with Joseph Parker in Cardiff in March, when he added the World Boxing Organisation (WBO) belt to the three he already held.
Barry Hearn, his agent, has boasted that Joshua will become the first billionaire boxer. "His commercial potential outside the ring is huge, way beyond Beckham and the world's top footballers," Hearn said. "He has a much bigger cross-over in terms of potential." Joshua is forecast to rise up the rankings next year.
Golfer Rory McIlroy, 29, tops the list after he raked in £110m over the past year – an increase of £28m after a string of sponsorship deals with major brands including Nike.
He beat Andy Murray, 30, who is second in the sport rankings with £83m. His earnings increased by £6m despite a long-term hip injury.
All the other entries in the Sunday Times Young Sports Rich List are footballers, the wealthiest being Real Madrid and Wales ace Gareth Bale, 28.
The ex-Tottenham star is paid £18.2m a year after tax, making him the best-paid British player in the world. He earns a further £8m from sponsors, taking his fortune up to £74m.
The richest UK-based player aged 30 or under is Manchester City's striker Sergio Aguero, who is fourth with £48m.
Matchroom have just signed a staggering $1bn deal with sports streaming company DAZN, whose budget for boxing is bigger than American giants HBO and Showtime combined.
Hearn, 69, said, "Anthony is an astute young man and he knows what Matchroom has to offer him when his contract runs out in November.
"To start with, Anthony is signed to the biggest and best promotional company in the world. We have the financial clout to make sure the big fights can go ahead at the big venues.
"We also have an exclusive contract with Sky Sports to screen quality boxing. There is also Sky Box Office.
"On top of all that, Anthony is also a friend.
"If he went, it would be like someone in the family leaving.
"No one at Matchroom is putting Anthony under pressure — but I am as confident as anyone can be in boxing."