Ambode Calls Nigerians Abroad To Invest At Home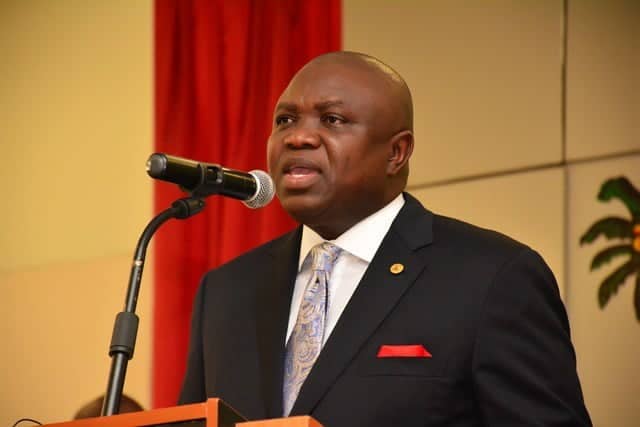 Governor Akinwunmi Ambode of Lagos State has called on Nigerians residing abroad to come home, invest and develop the country.
The governor, who spoke at a strategic meeting in Dubai with Nigerians on investment opportunities in the state, said if they adhere to his bidding by investing in various sectors of the country, the rate of unemployment would reduce.
Ambode, who was represented by leaders of Project LOUD (Lagos of Our Dream), Mr. Abiodun Yinusa and Kenny Bakare said his government was working to make Lagos desirable to everyone irrespective of their differences.
He also hinted that they were try to reposition Lagos for more businesses to come in.
While addressing a group which included representatives from the Yoruba Forum UAE, Oodua Progressive Union (OPU) UAE, The Nigerian Community, UAE and Head of Yoruba Traders in Dubai, he said: "I would like to thank you for this endorsement and we know that it is a call to further service. The governor has repositioned Lagos State as the global gateway to Africa and has also put deliberate policies in place to enhance ease of business. The governor is giving us the Lagos of our dream and he is committed to sustainable growth and development of the state.
"The endorsement, no doubt, will definitely spur the governor to do more for the residents, investors, and visitors."
Adjumat stressed that the decision to unanimously endorse Ambode's re-election ahead of the 2019 general elections was due to the achievements recorded in the state since his assumption of office.
He said: "Ambode's record of achievement is there for all to see. In terms of infrastructural renewal, he has opened up every part of the state, building bridges and roads in every part of the state.
"The governor has invested massively in security, which in turn has aided the economy to thrive. There is Light Up Lagos Project, One Lagos Fiesta, Lake Rice, N25 billion Employment Trust Fund, among other laudable initiatives.
"In view of the giant strides of Ambode in office so far, we are unanimously endorsing him for another term in office to continue the good works across the state."