Nigeria Needs N16.56tr For Its Rail Projects — Amaechi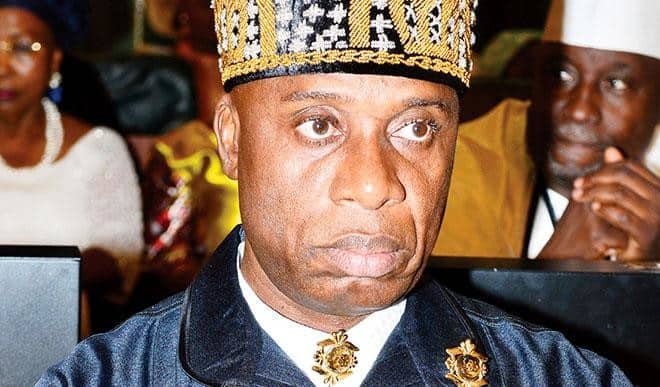 Rotimi Amaechi, the Minister of Transportation has revealed that Nigeria needs not less than N46 billion dollars (about N16.56 trillion) to construct its three major speed rail lines.
The minister revealed this on Tuesday in Papalanto, near Abeokuta, Ogun State during a joint inspection of the Lagos-Ibadan standard rail gauge along side the Minister of Information and Culture, Alhaji Lai Mohammed.
According to the Minister, the three major rail include Lagos to Kano, Lagos to Calabar and Port Harcourt to Maiduguri, which he said is crucial to President Muhammadu Buhari's government.
"We don't have the money available but we have to source it.
"The Federal Government must look for the money, we may likely borrow the money because the money is not just there.
"For now, the Chinese are funding the Lagos to Kano rail project and any of those that we have approached, when they give us money for the other two projects we will gladly take," he said.
Amaechi said that the private sector funding of the project was not visible because "there is no way in the world where railway is constructed by private sector.
"This is because it is a long time investment and the money will not be recovered in time".
The minister disclosed that he had approached the Russian Nexim Bank for funding of any of the rail project.
Ameachi said the Ministry was working hard to meet the December 2018 completion deadline of 156km Lagos-Ibadan rail project.
He said upon completion, it would take a speed train of 150km per hour that would travel from Lagos to Ibadan in one hour.
"We will introduce express train that will take off from either Apapa or Ebute Metta straight to Abeokuta and to Ibadan.
"We will also introduce train that will stop in all the nine stations to give passengers choices," he said.
Amaechi said that government had commenced rehabilitation of the narrow gauge to reduce the pressure of cargoes on the road, adding that the challenges on the standard gauge was the track.
The minister disclosed that 7000 jobs have been created as a result of the project.
He said the track was moving on slow pace of 15km per hour but upon addressing the challenges on the tracks the speed would increase to the maximum 80km per hour