Senators May Drop Idea Of Impeaching President Buhari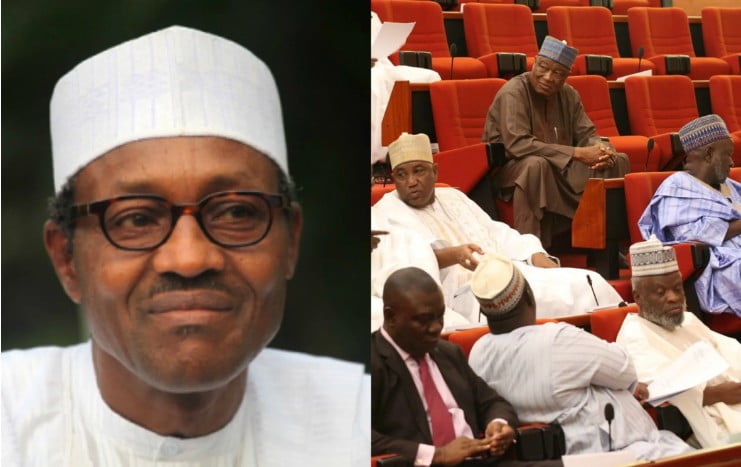 Why Senators May Not Impeach President Buhari – Source
Indications are beginning to emerge that President Muhammadu Buhari may have survived a strong bid by some members of the National Assembly to impeach him over the payment of $496 million to the United States Government for the purchase of 12 Tucano military aircraft without the approval of the legislators.
The legislators had assumed a position that President Buhari failed to carry them along in making the payment as entrenched in the 1999 Constitution (as amended).
The President's action had angered the lawmakers so much that they called for actions on the impeachment process of the president over a breach of constitutional processes.
However, as earlier reported by Naija News, the intervention of the senate and house of rep leaderships, temporarily appeased the angry lawmakers and the issue was referred to the Senate committee on Judiciary, to look into the payment and determine if there had been a breach of the constitution, and if yes, what it should do in the circumstances.
Reliable sources told THISDAY that the decision to drop the idea of going ahead with the impeachment process against President Buhari is connected to intense lobby of the leadership of the National Assembly, by the president and his aides.
The source disclosed that the president seized the opportunity of the time provided by the committee deliberations to meet with Saraki and Dogara, who then prevailed on the committees to give him a soft landing.
The source further explained that the committee would find a way to slightly exonerate the president on the basis of section 83 (1) (2) of the constitution, which border on contingency fund.
The sections read: (1) the National Assembly may by law make provisions for the establishment of a Contingencies Fund for the Federation and for authorising the President, if satisfied that there has arisen an urgent and unforeseen need for expenditure for which no other provision exists, to make advances from the Fund to meet the need.
"(2) Where any advance is made in accordance with the provisions of this section, a Supplementary Estimate shall be presented and a Supplementary Appropriation Bill shall be introduced as soon as possible for the purpose of replacing the amount so advanced."
According to the source, "The provision of these sections would be applied. It does not seem to really explain the case, because the National Assembly has to give approval for that advance spending, but they will find a way to say he was short on time."
The President would however not be fully absolved of all blames as according to the source, the National Assembly does not want to appear as a rubber stamp for executive actions.
To this end, the lawmakers may settle for a resolution, reprimanding the president and warning him to ensure that he abides by the Constitution henceforth, the source stated.