Obaseki Gives Reasons Why Youths Are Fleeing The Country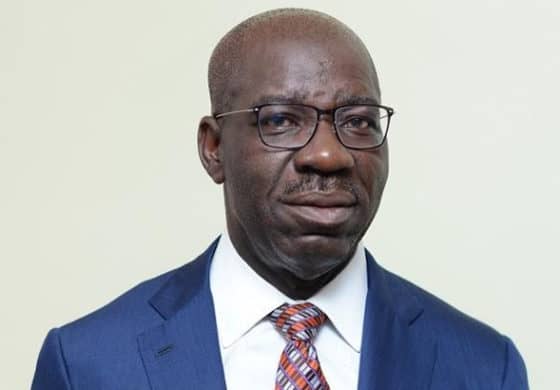 Edo State Governor, Mr. Godwin Obaseki, has said that absence of structural plans in place, to train ,give quality technical and vocational education with appropriate certification is the reason lot of youths are bent on leaving the country.
This, the governor said while he was delivering the Anniversary Lecture at the 60th Anniversary of the University of Ibadan Alumni Association, in Trenchard Hall, Ibadan, on Friday.
In the lecture entitled, "Technical and Vocational Education as Imperative for Youth Empowerment", Obaseki noted that many things must be done to change the way Technical and Vocational Education and Training (TVET) is seen, by restructuring the institution fostering public support and ensuring they are under quality management.
According to him, "Lean resources cannot be the excuse for not prioritising and investing in technical and vocational education training. Leaders must take it upon themselves to change the wrong public perception. There are no more government jobs available to absorb the thousands of graduates that our higher institutions produce every year.
"If we truly want to work for peace, stability, growth and development in the interest of our people and nation, this is the time to wake up and reposition TVET in Nigeria. For us in Edo State, we have recognised the challenges and we are confronting them frontally. If we succeed in Edo State, it may inspire similar transformations elsewhere."
He said it was sad that many government in the past had only promised the youths and did noting "Unfortunately, despite seeming propaganda about involving the youth in decision-making over the decades since political independence, not much has been achieved. The hundreds of skills acquisition programmes in the country hardly prepare our people to deliver quality service and earn incomes that can improve their quality of life.
"I must acknowledge the on-going discourses on this issue and the changes we are witnessing in some states and institutions in the public and private sectors. The fundamental reasons for this rather low level of youth involvement are policy inconsistency and plan indiscipline. Now, we have a large army of unemployed, underemployed and unemployable youths that threaten national security and stability, we are faced with the reality of what to do with them."
On reforms in the TVET sub-sector in the state, he said, "We closed and redesigned the Government Science and Technical College in Benin, and we are currently rebuilding it to reflect contemporary requirements for a full-fledged technical college. We have equally redesigned the courses to make them demand-driven.
"We have also reviewed the character of student enrolment in technical schools. We discovered that many students registered in our technical colleges where they could sit for WAEC/NECO and other NABTEB examinations. However, over 70% of them took WAEC/NECO and then sat for University Matriculation Examination and went off to universities. As part of our restructuring, we have issued a directive that students that graduate from the JSS3 class can decide to go to technical colleges or to regular secondary schools."
In reactions to recent times human trafficking, he said , "In recent times, over 30,000 young men and women have left Edo State for Europe via the perilous journey through war-torn Libya. Amongst them, over 3000 died in the Mediterranean Sea. Of the over 3,500 that have returned so far, most remain traumatised with tales of woe and frustration.
"While it is true that there are other pressure points that tend to push our young people to other lands, the fact remains that where there is training and hope for a better future, such push factors will be reduced to a minimum level."
He said, "The State Government has designed a development strategy based on widespread consultation with stakeholders. Based on our six thematic pillars institutional Reform, Economic Revolution, Infrastructure Development, Socio-welfare Enhancement, Environmental Sustainability and Culture and Tourism, we have successfully launched a new industrial programme including revision of incentives to investors, introduction of new technology in revenue collection, establishing a Public Private Partnership office and an Edo Investment Promotion Bureau, initiating an Ease of Doing Business campaign and establishing an Industrial Park.
"These new businesses will recruit the products of our redesigned technical schools. In my recent visit to China on the invitation of the Chinese Government, over 20 businesses expressed an interest to invest directly in Edo State. Within two weeks of my return, about four Chinese investors visited Edo State and we are expecting a delegation of 20 businesses from Tianjin Province of China in a couple of months," Obaseki said.