Lawyers Sue RMAFC Over Huge Allowances And Salaries Of Senators And Rep Members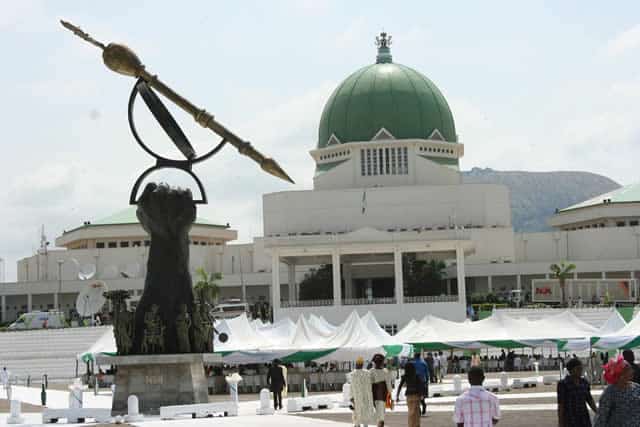 Lawyers Sue AGF, NASS Over Senators' N13.5m
The Former chairman of the Nigerian Bar Association (NBA), Monday Ubani and John Nwokwu, have sued the Revenue Mobilisation Allocation and Fiscal Commission (RMAFC), the Attorney General of the Federation, the Senate and House of Representatives before a Federal High Court in Lagos
Naija News learnt that the parliamentary bodies and National agencies were sued over huge salaries, allowances and remunerations being collected by National Assembly (NASS) members.
The lawyers are urging the court to hold that only the Revenue Mobilization Allocation and Fiscal Commission had the power to determine salaries and allowances of National Assembly members and other political office-holders.
In an affidavit in support of the suit, sworn to by Ubani, he contended that based on relevant sections of the constitution, it is illegal for NASS members to continue to collect the sum of N13.5 million monthly as running cost, N750,000 as consolidated salary and allowance and N200 million constituency project allowance as revealed by recent newspaper publications.
Ubani argued that by virtue of relevant sections of the 1999 Constitution as amended, RMAFC is the only authority permitted to fix the salaries, allowances and remuneration of political office holders, including that of NASS members.
The two lawyers are also asking the court for perpetual injunction restraining NASS, whether by themselves or agents, from further receiving the sum of N13.5 million monthly allowances or running cost or whatever sum as a running cost and N200 million as annual constituency project.
The duo also prays the court to make an order that each member of NASS refund to the federation account the sum of N13.5 million and N10 million respectively collected as running cost since 2015 till date within 14 days of delivery of judgment in the suit.
The court has yet to fix any date for hearing.