Oby Ezekwesili Decries Children Exposure To Death and Killing In The Country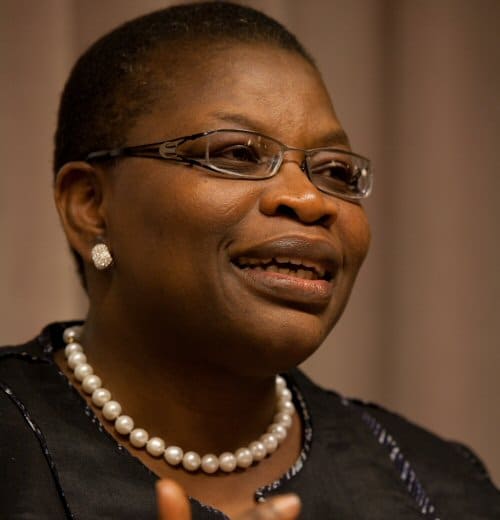 Oby Ezekwesili, Bring Back Our Girls campaigner, has decried the fact that Nigerian children are getting accustomed to deaths, due to the killings that go on in different parts of the country.
Oby Ezekwesili, who shared her concern on her twitter page complained about how the innocence of children has been snatched and their emotions deadened due to the news of death that they hear almost daily.
She warned that the Nigerian society might, one day, pay for not protecting its children.
"I remember vividly how, as children, we used to be so shaken about death.
"Then, if we heard news of death of anyone or people, we would cry so hard and be inconsolable. It did not matter whether we knew the dead or not. That was the innocence of childhood. It was healthy.
"There is nothing that gives me profound pain, as the fact that families of those of our citizens now killed daily are actually mostly left on their own to bury their dead.
"They are on their own, while the leaders of government and (the) rest of the society carry on as though all is well." she said.
She expressed her displeasure and pain to the continue exposure of children to news of killings and death on daily bases.
"The normalising of killings has fast desensitised even our little ones. There is a hard edge that is not childlike in the Nigerian children who now see death as common.
"I am afraid that our society will long pay for the deadened emotions that frequent news of killings of citizens that our children are becoming accustomed to hearing without as much as a flinch anymore.
"I have been observing the children around me and this worries me much.
"We cannot watch on as our children become used to the idea that killings are a "normal occurrence" in Nigeria.
"Ah. How can it be? We are losing our children as they lost that childhood innocence that is healthy for accumulating any society's social capital. It breaks me." she added.
"the greatest disservice that Nigerian president is doing Nigerians is to not have solutions to these daily killings.
"The greater disservice is his coldness in the face of the killings. President Buhari is, by his emotional dissonance, killing the childhood innocence of our Nigerian children.
"As promised, I shall do my one-woman march against Aso Rock to protest President Buhari's seeming tolerance of daily killings across Benue, Taraba, Zamfara, Kaduna & neighbouring states.
"I refuse to accept these killings as our new normal. No!" she warmed.